Library Consulting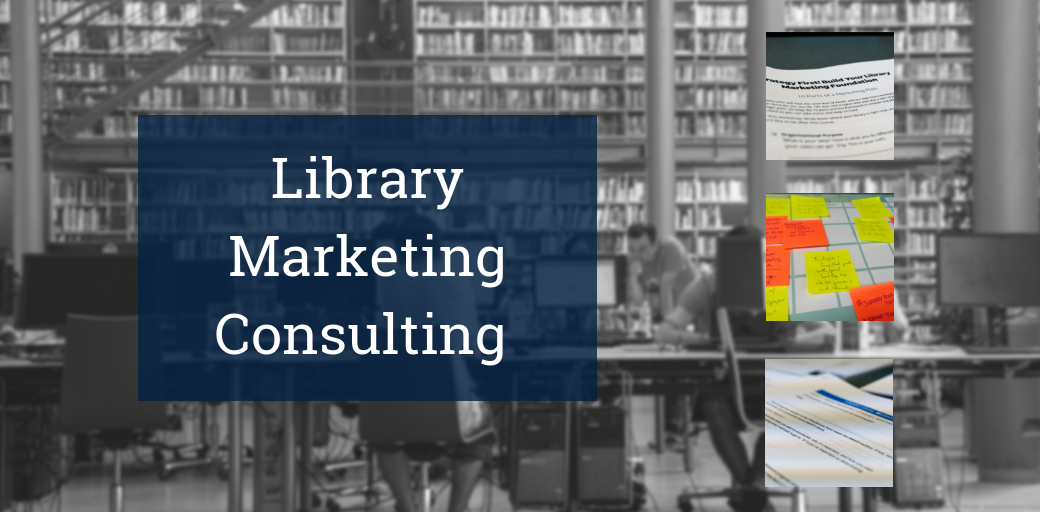 Library Marketing Consulting



Just like the training programs I offer, my approach to library consulting is grounded in research, best practices, my varied professional experience, library stories, and real world examples and lessons. If it's not something you or your team can take action on now, it's not helpful.
I feel strongly that libraries can learn tips and best practices in marketing from others in the nonprofit space, as well as from the business world. I study it all and help you bring ideas and practices from all those areas together into something that takes account for how libraries operate today.
Marketing and the world of libraries each have their own languages, and I'm one of the rare translators of both. Some of my colleagues have even called me a 'unicorn' for my special, rare blend of both – maybe it's also my colorful personality. 😉
I believe in a collaborative approach – I don't want to do marketing for you, I want to work with you to figure out the marketing approach that works for your organization. If you need more than webinars, workshops, or in-service training and professional development for your organization, let's work together to create a custom consulting package based on what you need right now. I also have a wide network of information professional and library colleagues who we can tap into to bring extra expertise to solving your library's marketing planning and strategy challenges.
Library Consulting Services Include:
Across all consulting services, beside being collaborative, I believe (was trained) in a holistic and integrated marketing approach. Plans should take into account the whole library's mission and goals, your whole staff and their key roles as brand touch points, and plans should be across channels or platforms (social media, print, collateral, signage, websites, email, public relations, promotions, paid advertising).
What does your library, system or organization need most right now?
Market Research Needs Analysis – working with you to assess what your market or customer research needs are and how they can improve your goal setting and marketing plan development. Does your library want to start a community listening tour or to conduct stakeholder interviews? Does it need structured or semi-structured interviews with community members, users, lapsed patrons, or staff? Let's discuss whether you need focus groups, online or offline surveys, or even secondary demographic research. The more you know about your greater community, your users, and their mindsets – the more effectively you can plan and execute your marketing.
Marketing Plan Creation – This is a collaborative process – as I'm a teacher before I'm a consultant – I want you and your team to have the skills and confidence to create a sound plan that your library can actually use – not a document that gathers digital dust on a hard-drive. I don't write the plan for you – I guide you through the process and steps as you arrive at the plan that makes sense. We start with S.M.A.R.T goal setting, determining priorities and strategic approaches, checking your segmentation and target audiences, before diving into discussions of tactics.
Audits –

Brand audits to look at designs, logos, brand packages and whether they accurately communicate your particular organization's value proposition to its community; this often dovetails with a sign/image audit.
Signage and image audits – wayfinding, merchandising, consistency of branding at your location(s), indoor + outdoor signage, consistency of message in signage, what your signs are communicating, (intentionally and unintentionally), appearance and image perception of building/grounds, customer service touch points
Marketing collateral/materials audits –  looking for branding and message consistency, color consistency, good design principles across your flyers, brochures, rack cards, book marks, event catalogs/calendars, business cards, letterhead – anything that your users physically see, touch, can take with them; can include review of creation and approval process for print materials and recommendations on changes. Does your library have a style guide – would you like pointers on creating and using one?
If you've got a solid plan with S.M.A.R.T marketing goals (good for you!) then maybe what your team needs most is some guidance on execution and getting to those goals. Let's talk about the training/workshops I love creating and delivering for library organizations of all types, locations, and sizes. Read more on some of the workshops and webinars I've delivered for organizations across the country (and even overseas! Thanks Library and Information Association of South Africa!).
Every Library Is Unique, Every Project Is Unique
There are no cookie-cutter consulting projects or proposals. Deliverables and expectations are unique to each project. After talking (listening on my side) about your situation, we decide what your intended results are, what work is needed, what deliverables make sense for your organization, your project, and your budget.
We work together to set project requirements, schedules and additional resources needed. Everything is outlined clearly so we're on the same page. Communication is key, not just in marketing but in all marketing projects.  So, we will work out all milestones, deadlines, team responsibilities and check-ins to keep your project on track. Together we will manage the big picture and all the important details.
This is Collaborative Consulting
I want to collaborate with you and your library to achieve marketing plans, signage, branding, or research results that you and your staff are thrilled to have, confident to work on, and make your library stronger in its community.
Contact me today [use the form below]  and let's talk about how a collaborative consulting approach to strategic marketing can help you.