Resources for Library Marketing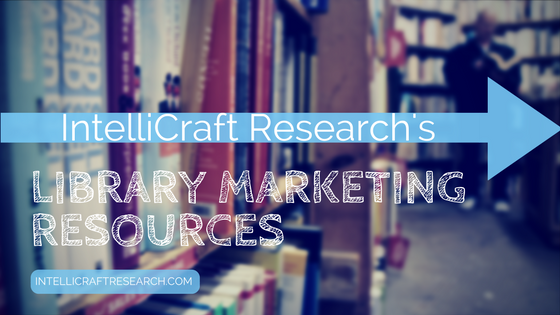 Your Complete Collection of Resources for
Better Library Marketing
72% of donors to US nonprofits say poor content and communication will prevent them from donating [via eMarketer]
There's a lot we didn't learn in our library school classes or practicums and a whole lot more learned on the job, right? Why didn't any of our library school grad classes cover the things librarians often really do on the job? Like the pains of Adobe products for graphic design, constant website updating, what's a good marketing strategy, what metrics really matter, how you actually 'do' marketing for your library, customer service for painfully difficult patrons … or how to deal with all these unholy messes in the restrooms I keep reading about on lists and Facebook?!
Do you sometimes wonder if there's a secret guide to dealing with the REAL work of being a librarian that they didn't tell us about? One all the seasoned, veteran librarians know?! Is it hidden in the stacks somewhere?
I can't help you with restroom issues, or painful patrons (but I might give customer service tips from my days in retail) and I share the love/hate relationship with Adobe. I wish I could give you a magic book with all the answers to library marketing and communications that were left out of our training. Alas, there's no 1 magic book. Sigh.
(But just in case,  go check the 133.4s, or the 793.8s, the BF1585 range for my academic library buddies, and report back!)
BUT, I can give you the next best thing – my recommended library marketing resources
I'm going to help you 'hack library marketing' by sharing my experience and knowledge from years as an advertising and marketing executive, customer service trainer, and work with libraries and information professionals. I will decode 'marketing' for you and translate to 'library.' I will cut through the jargon and clutter.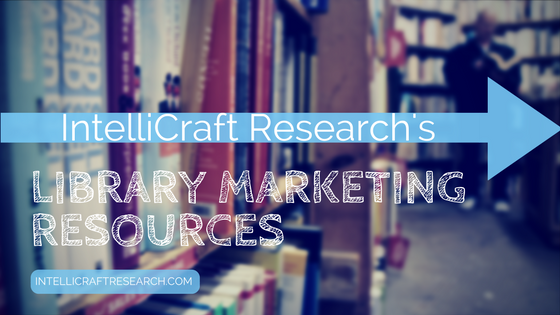 I'm building an ever-expanding collection of library marketing resources made from my own posts, tips and guides, as well as recommendations and links to other experts. The resources collection includes how-to's, tips and examples – all designed to make your promotion, outreach and library marketing efforts easier, better and more powerful.
Topics in Library Marketing Appearing in IntelliCraft's Resources:
Bookmark this page and come back often to see what resources have been added to the collection. And if you think they're helpful, please share on social media and tell other librarians and info pros!
Want more tips and tools? Join my email community
I regularly send emails with notes, marketing insights or lessons, cool tools, or a roundup of good articles or posts I've seen lately. Want to know about eBooks, workshops, webinars, training opportunities before others? Want my FREE list of recommended marketing tools to add your library's marketing toolkit? Then click below and download the tools list!
68% of marketing professionals today feel more pressured to show a return on their investment in marketing [Adobe survey]
Don't feel pressured. Get help. Check out the resources here and join my email list so you're ahead of the marketing game.