Roundup of Free Video Editor Alternatives to MovieMaker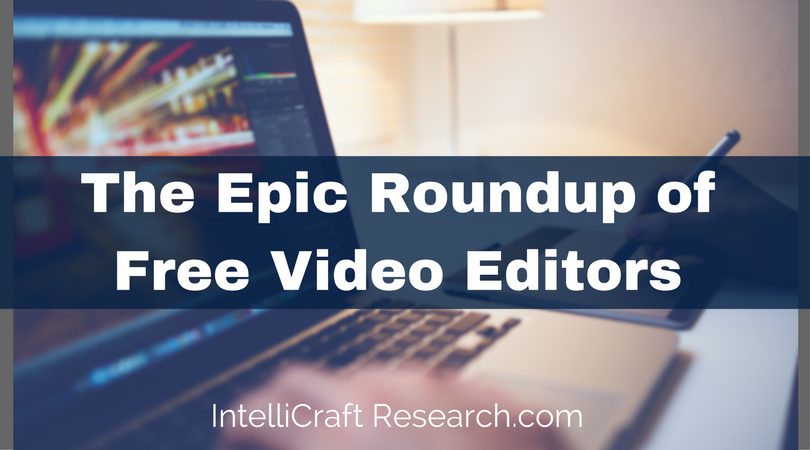 An Updated List of Free Video Editors:
Software Alternatives to Windows MovieMaker
Time to update the list of free video editors, because things have changed! I've written about video tools before, I include links to apps on my resources and Fave Tools pages, but darn if those software makers don't keep changing or killing off products!
[I gave suggestions on Cloud-Based video tools for my column in IntoToday's Marketing Library Services Newsletter last November, and gave video creation tips in January issue – sometimes they make my column available for free, not just to subscribers- so always check! I've also done multiple presentations on video and 1/2 day workshops – LMCC15, LMCC16, for AIIP, at CILDC, for the Long Island Library Resources Council, etc. I'm happy to do a workshop for your library system too! I have photography and video in my background and it's a big hobby.]
Let's take a moment to say goodbye to useful video editing tools …
Windows MovieMaker – dead or dying, now unsupported since Jan '17, unavailable to download (except by taking your chances on 3rd party sites), no replacements available in App shop yet. [NOTE: IF you have it on your computer, AND it wasn't killed/corrupted by recent Windows updates, it WILL still work. How long? Who knows!]
YouTube Editor – dead, being withdrawn as of Sept 20, '17; no plans from Google for replacement; you can still make 'Enhancements' to videos you've already edited and uploaded to YT  [e.g. a sample video with clips I put together in <90 sec … sigh]
The loss of the YouTube Editor is being especially felt by Chromebook users, including many teachers and students, since these ultra-basic laptops have no hard drives. Chromebook users got pointed right to YouTube and could do everything there – now … they will probably need to turn to a cloud tool like WeVideo or Loopster – but the free versions there are no match for the late YouTube Editor. If this is you – what are you going to use instead? I'd love to know what works so I can mention it here or in future posts and columns.
So where do we turn for free, simple video editors now?
Well, it still depends on what you're trying to do, how much time you have to learn something, and if you plan on getting more advanced in the future.
Sometimes all we really need is to trim, split and join up some clips – add a title, some music underneath and let's go. But which tool makes those basics EASY to do?
Are you mostly looking to edit some short clips you shot on your phone, along with a few pics, and add a simple voice-over – maybe creating something for a class, showing off a recent library event, or quickly sharing to social media?
Are you planning to edit a slightly slicker looking video into a proposal, a presentation, or something that needs to be a little more professional?
Do you need to color correct you videos (do you know how?!)? Are you creating keyframe animations, adding layers or titles, and is chroma or green screen work a necessity?
Or are you aiming to replicate a Madison Avenue commercial, and look really cool and pro – but do it all yourself because you don't have anything close to a Madison Avenue budget?
There are tools for all needs, projects, and levels – available free, open-source, or freemium.
What you choose is going to depend mostly on what your typical video projects or aims look like, how much time you have to spend learning how to do what you want in a given tool, and if working with a tool makes life or your work easier (yay!) or harder (boo).
I admit, I'm taking the death of Windows MovieMaker hard – because it was just SO EASY to go in and quickly edit some clips, apply simple transition, and even grab a frame snapshot to use as a thumbnail. And if a tool is simple and quick to use, it means you WILL use it, and you can also get back to doing other work.  Yes, I've tried other tools. Yes, I've purchased video software, like Sony's Movie Studio line, and tool called VideoMotionPro, and I have subscriptions to Animoto and Biteable, and … maybe I have a video problem! And once upon a time I even edited digitally and physically for ¾" Beta tapes.
BUT … that doesn't mean on a typical Monday afternoon that I want to do any heavy lifting or highly technical editing that requires me to go watch tutorials, when I have other projects to get to as well! You're in the same spot. We're rushed, we're busy, let's skip the long learning curves. Most of the time you don't have TIME for more than light editing.
So, now I need to spend time learning how to do the same things in other video editors and see if they can be as simple, as fast, and hopefully better looking than my old standby. But, YOU get to take advantage here – you can learn with me as I go and see what I think of various editing tools and whether the ones I'm testing will work for you too.
This Roundup has (jump straight to tool lists):
Want a quick list of ALL the tools mentioned here PLUS get extra video tips via email? Click to get access.
ADD_THIS_TEXT
Advantages I Already See in New Software:
More, and better-looking, effects
Motion graphics
Better-looking lower thirds and title graphics [those are features I wanted and bought software in the past to get – many of the free tools now include]
Multicam editing – switch between camera angles of the same shot – used to be only in seriously high-end pro software, now available in the <$100 set and some of the free tools
Motion tracking – lets you attach and object or effect to something moving in your video – e.g. blur the face of someone in your video (kids in the library!); another effect that used to only be available through Adobe's After Effects or other special effects tools
Things That Still Exist – But That I Hope You Don't Use:
Cheesy transitions – just because the software CAN do a 'diagonal lines 16x16px fade' does not mean you SHOULD do so. Step away from the sliding doors, checkerboards, spirals, and fast wipes. If you don't want to use a plain 'ol hard cut, just stick with a simple, always classic cross-fade.
Don't have text flying on the screen from the corners, or wiping up from the bottom, or clicking in letter by letter. Just like you shouldn't use all those animations in PowerPoint, don't use them in your videos. Less is more.
Removable background – again, just because some tools make it easier to remove a background (even one NOT in Chroma Green or Chroma Blue) does not mean go do it! Putting freeways, mountains, Mars, or the deck of the Enterprise behind someone talking doesn't make for a strategically sound marketing video. IA joke, or holiday gift? Sure. IF you have the proper equipment and know what you're doing, and it's not cheesy – GreenScreen can be very cool. Tread lightly my friends.
My Roundup of Free Video Editors (as alternatives to MovieMaker)
Note 1: This list focuses on PCs – if you're on a Mac, you already have good free options, like iMovie. Some of this list works fine on Macs too – like Avidemux or any of the cloud-based editors.
Note 2: Dang it, NONE of these are truly simple or easy where you could whip out some joined up video clips with music in < 3 minutes (yes, I could do that in YouTube or MovieMaker). Most of these tools are great if you're you want something pro looking, already know how to edit or work a timeline, know how to deal with 'noise generators', and color correction or the other advanced features a lot have. BUT not great for simple edits. Still searching …
Here's what I have downloaded recently and am testing: VideoPad, Shotcut, Avidemux, and VSDC Editor.
The "Simpler" Free Alternatives:
Avidemux –  free, simple interface, (a little old looking, some say ugly, but does the basics) supports all the relevant file types; just the essentials (trimming, adding clips, apply a filter, convert a format) not overloaded with features (though there are extras there, if you dig through the menus);Cons- no timeline, no audio editing (but you can add audio/music tracks), add only 1 clip at a time, known to be a bit buggy or crash-prone [SAVE WORK OFTEN!]   Plenty of useful support documents, like this Quickstart guide. [Note: so far, in limited testing, I'm not impressed and will be spending more time with two others I've screen-capped below.]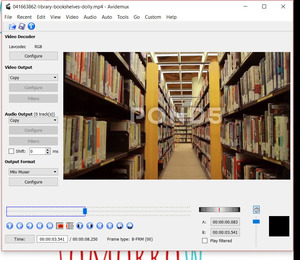 OpenShot –   features usually found in pricier tools; started on Linux, but is cross-platform;  unlimited video tracks, layers, audio; 3-D animations; drag-n-drop interface makes it one of easier to learn and use
Shotcut –  another pro- styled, pro-feeling editor packed with features and an interface that takes some learning. Instead of immediately seeing a timeline for editing, you work on clips and add them to a playlist. You can add filters, color correct, and there a lot of encoding options (and you can keep working while something encodes). Transitions between clips may be a missing feature. Some reviews say its better results only come if you have the time to master it (I don't, but looks like I may have to!), but other reviews have called it the 'best alternative to MovieMaker'.  So, I'm spending time poking around and testing it.
VideoPad – simpler, beginner-friendly interface with drag-n-drop timeline; the interface that most closely looks like Movie Maker; still has effects, nice transitions, ways to pretty-up your videos ; seems designed with the 'share to social crowd' in mind; doesn't have as many advanced features, but means easier to learn; direct loading/sharing to YouTube from 480p up to 4k. [I've downloaded the version they say is free for home use – and without reading any guides I could easily figure out how to trim clips, add to the timeline, add music, add transitions and fades, put on title text – and generally see this is a nice piece of software …. UNTIL …. It wouldn't let me export as any kind of actual video file without registration or purchase of the upgraded version. ARGH]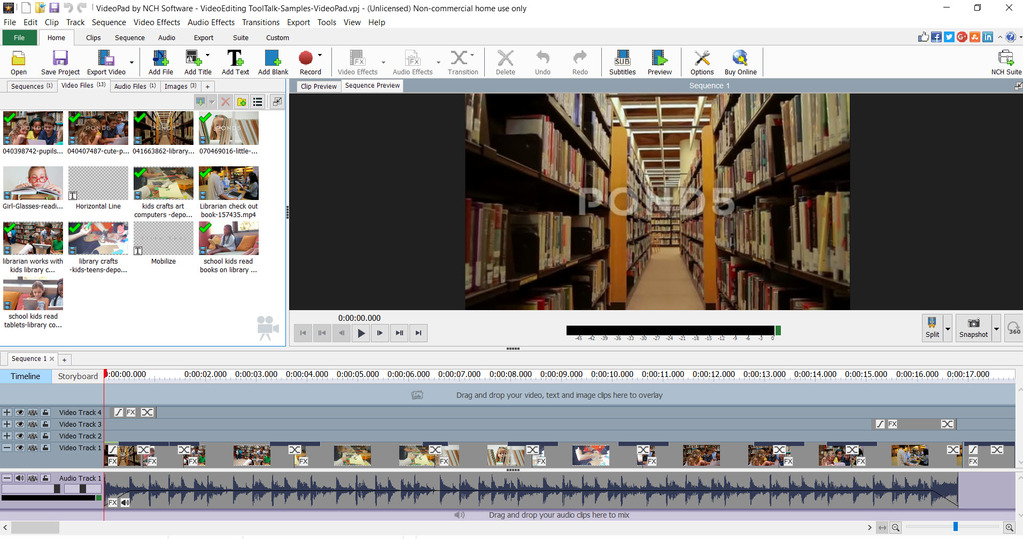 Ezvid – started as screen capture software but has video editing features and very simple interface (perhaps too simple for some of our needs, but perfect for quick splicing before social sharing). Con – only exports to YouTube. Interesting that this tool rarely showed up in other reviews or round-ups of free editors (probably because of the limited export option).
Free Editors, But I Think They Have Issues:
Wax –  or from https://wax.en.softonic.com/ ; mixed reviews with some calling it best simple editors, other saying too simple and doesn't compare with other free editors; you might need some prior editing experience to make most of this; can be used alone or as a plug-in to other video editing software
Pinnacle VideoSpin –  free, light, social-friendly software from makers of some of the most popular video software of all time (Pinnacle Studio – now owned by Avid); intuitive interface, use for pulling photos and short clips together from an event with the drag-n-drop editing, add a few transitions and automatically upload to YouTube. Advanced features and codecs available for $$ upgrade.
Machete Video Editor Lite –  an interface that reminds me of MovieMaker, especially in its simplicity; specifically designed for "quick and simple 'slicing' of video files" – just what we need for quickly putting together those clips for social sharing and to replace YT Editor and Win MovieMaker!  Cons – only supports AVI an WMV video formats, no audio editing (and no adding or replacing of audio stream).
Filmora –  basic, simple interface, easier to learn with advanced features you can learn along the way; has an 'Easy Mode' to take out the complexity, use pre-designed themes and be done quickly; Con – free version is watermarked – sorry, that's a dealbreaker for me when looking at FREE options. Lifetime license with free upgrades available for $60 (about the same as Corel, Power Director, Vegas Studio (what Sony's Music Studio was). So, is it worth it to buy Filmora vs. other tried-n-true editing options?
Don't get overwhelmed! I've made a PDF with the editors I'm testing and links to all mentioned here PLUS get extra video tips via email. Click to get access.
ADD_THIS_TEXT
Free Video Editors With Advance Features (unleash your inner George Lucas):
Lightworks –  free version of a powerhouse video editor that's behind many commercial movies (Wolf of Wall Street, King's Speech, etc); free version has some export and format limitations (e.g. limited to 720p); TONS of advanced features, BUT, hard to learn and use
HitFilm Express – free version of a more powerful video editor; free is somewhat limited compared to Pro, but you can also pay to just add certain bit you need; ability to add in 2D, 3D effects, green screen removal, and other special effects; Purchase add-on packs with additional tools (Sci-Fi Adventure pack includes laser bolts and light sabers!). I wouldn't call it 'simple'.
KdenLive–  tons of advanced features; more challenging interface than OpenShot, but said to be easier to use than LightWorks or Premiere.
Avid's Media Composer First –  Avid is what all those Hollywood, Oscar-winning film folks use. This is their pretty-beefy free version. Overkill for all of us non-editor, non-pros.
VSDC Free Video Editor – non-linear editing (different than most other tools – takes some time to get used to); easier to master after plenty of practice; build a 'video project' from clips, pictures, audio files you put in order (no timeline); tons of effects, filters (some specific to Instagram), auto image stabilization; built-in screen capture tool (that's a BIG plus!), as well as conversion tools built-in. This is advanced editing software – for free. If you know and use Final Cut Pro, this could be your new free alternative (similar style and interface). Con – if you need support, you must pay for it ($15 gets you 1 yr), some reviews say watch out for adware!   [After seeing this one in the top 3 or 5 of EVERY review list or round-up out there, and peeking at the interface – I'm going to give this one a try. I like what I see initially …  Check back for more info or a review]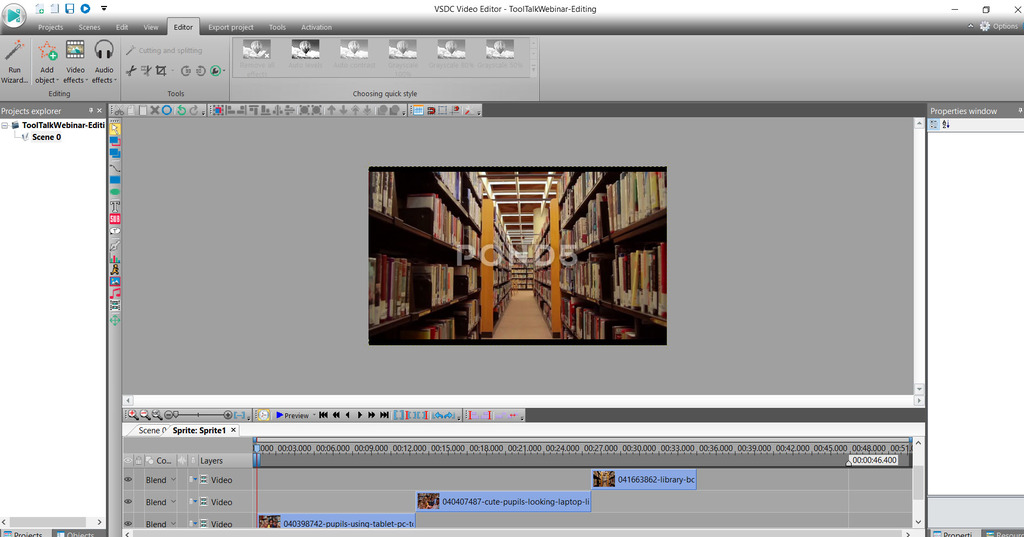 Cloud- or Web-based Video Editors:
[these are all freemium (you get limited features free, pay for more and to remove their watermark)]
Loopster –  Intuitive, easy to learn online video editor (plus app for all phones/tablets) means editing on the go. Free version allows up to 10min videos, with Loopster watermark and intro trailer. Paid plan starts at $4.99/mo for higher resolution, no watermark, real time voice recording, 20min of video.
WeVideo – When you're in a hurry, don't waste time learning super-powerful (kinda clunky) video-editing software – go online instead. WeVideo lets you upload and edit online, add transitions, simple effects and even collaborate with videos from friends or colleagues. A bit more advanced than some of the simple, open-source downloadables (like Machete or Avidemux). You can edit anywhere and I like its clean interface. Cons – big limitations in the free version (storage, length of video, watermarking).
Video Toolbox –  free, online editor for videos up to 600MB (oooh, that's not gonna be much to work with!); a very simple tool
Since there are naturally limitations to ALL of the free tools, you maybe wondering (I know I am) if you should just go ahead and purchase a copy of video editing software to keep on your computer that is tried-n-true and maybe easier to use.
The Big Names in Paid Video Editing Software (for consumers, pro-sumers):
Adobe Premiere Elements (~$90, 1x pay), and Adobe Premiere Pro ($19/mo CC subscription)  – cross-platform; if you already know and use Adobe products like PhotoShop, it's not a hard learning curve and it's an industry leader. It integrates with other Adobe tools, experts simply, and basically does it all, without too high a price tag.  http://www.adobe.com/products/premiere.html  or Elements http://www.adobe.com/products/premiere-elements.html
Vegas Movie Studio  (what was Sony Movie Studio) – recently acquired by Magix, undergoing changes to bring it back up to the pack. (I once owned Sony Movie Studio Platinum 12.)
Power Director (Cyberlink) – versions have been available for Windows for years; ~$60-70 (for ver 15?); rated highly as an editing tool for Windows users, and easy for beginning editors to learn ; multi cam, motion tracking editing avail; its Action Camera Center is fantastic for GoPro fans – let's you speedup, slowdown, freeze-frame, slo-mo, do fish-eye corrections, and fix underwater footage https://www.cyberlink.com/products/powerdirector-ultra/features_en_US.html
Filmora – because who wants another company's watermark on your videos, so pay for the upgrade, $60; BUT – doesn't include a lot of the same advanced features that Power Director, Corel, or Elements already have
Corel Video Studio – ~$75-80, 1x pay; ultra easy for beginning editors to learn and use with a spare, simple interface; still plenty of advanced features such as: motion tracking, multi-cam, mask creator, time remapping, 360-degree videos, fancy titles and transitions; NOTE – Video Studio Pro is a few bucks cheaper, but has FEWER features  https://www.videostudiopro.com/en/
For Macs –
Screenflow – https://www.telestream.net/screenflow/overview.htm
Final Cut – $300; huge capabilities, but apparently quite easy to use. What say you Mac pals with big budgets?
iMovie – should I even include this in the 'paid' tools, since Apple gives it away to every Mac owner, as well as free versions now for iOS? The obvious choice for Mac owners – you're lucky, you still have awesome built-in tool that's pretty easy to use and has advanced features. (the iPad and iPhone app do NOT have the same set of features – but are good for on the go editing)
Adobe Premier Elements – remember, it works on Macs too
Additional Articles and Lists of Free Video Editor Alternatives –