Recommended Library Marketing Tools
Jennifer + IntelliCraft Research's Recommended Marketing Tools for Libraries, Info Orgs,
and Info Pros On Tight Budgets
"What's the best tool for social media scheduling, and does it handle Instagram?"
"What's an easy way to edit videos, my library isn't buying expensive software like Final Cut,
and I don't have time to learn it anyway?!"
"Are there free tools beyond Canva for designing flyers, cards, or social media graphics?"
"Hey, what camera is that you're using?"
"What mic should I get for making videos?"
I'm asked questions like these, or for marketing tools recommendations, ALL the time.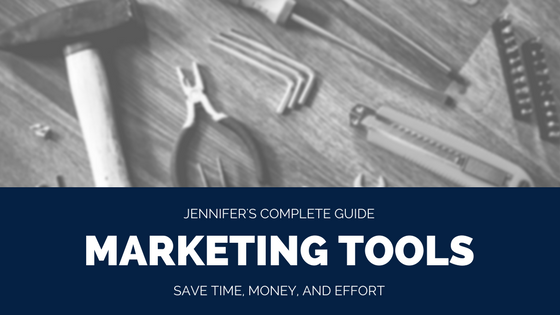 Why Should You Listen to My Recommendations?
In my work as a library consultant, a frequent presenter and workshop leader I do a lot of research and digging for new tools and tips. Hey, I'm a trained librarian, so research and sharing is my thing! I really get a kick out of testing and trying new tools, apps, software, gear, and gadgets. I include suggestions for software, apps, or tools in all my talks. I've had a column for more than a year with InfoToday's Marketing Library Services Newsletter. I regularly answer questions in Facebook groups, send a suggestion on Twitter, or include a tool tip in my emails.  I want to give you suggestions for reputable companies, products, or services – ones I've used personally, tried out, or dug into.
I LOVE talking about tools and sharing them! That's why you should follow me on Twitter, like my Facebook page, come to one of my webinars, or get emails from me – so you can be first to know new tools and recommendations.
Click the button to get ALL these cool tools in a downloadable PDF you can use whenever you need it!

Some of you are part of larger library systems, with multiple branches, multiple team members, and a wholly different procurement or buying process. Some of you are in academic settings with different seasonal needs, narrower audiences, and maybe a university branding or marketing department to tap into for extra help. And some of you are like me, flying solo, doing it all. Or marketing is still just one among many 'other duties as assigned'. You're going to need and like different tools – so use my list of recommendations as your research shortcut. And let me know which ones worked for you – or didn't!
Some of the links below may be affiliate links, which means I can earn a small % of the purchase price if you decide this is a great tool for you too. Yay me! I can buy more gear, gadgets, and tools to test and recommend to you, my colleagues and friends. 😉  But …  I suggest you do your research too, even with things I'm recommending to you here, as we all have slightly different requirements for the resources we need and use.
Let me save you time and do the research, testing, and weeding out of marketing tools for you
I'm here to save you some time, do your initial legwork, give you shortcuts. Priority is given to free or super affordable tools, I'll note prices (always double check – prices change faster than I keep up!), and mention tools I'd likely buy if I had a bigger budget or slightly different needs.
Bookmark this BIG list of marketing tools. Keep checking back as I add to, tweak, or revamp this and all my recommended resources.
Marketing Tools On This List
Click to jump straight to that section:
Graphics – tools for picking colors, fonts, creating better looking graphics, without needing to be a designer
Photos – tools to edit images, apps for your phone, ways to find non-generic stock images
Video – tools for creating videos, for editing footage, sources for stock clips
Social Media – tools for managing accounts and scheduling, tools for monitoring and measuring, tools for social research
Productivity – tools for project planning, note-taking, writing, and communicating
** = Tool I own/pay for because I like it that much, or the premium version was worth it to me

Tools for Graphic Design
Canva, Canva for Work**  

–

I've been using Canva for years, since it was in beta. I'm one of first 30,000 users. I LOVE Canva and would be a literal Canvangelist if that becomes a thing. I haven't found an easier tool for creating great looking graphics for everything from a presentation, to a poster, to the ubiquitous social media posts. Photo filters and editing, slick fonts, and tons of tips and help to make better designs – they understand their audience. Why I pay – the Magic Resize, to save time making a graphic that looks good on Twitter, Facebook, my blog, or as a cover image; access to free stock photos, more illustrations and graphics. Downside – many icons, graphics, and illustrations that were 100% free in the early days now seem to be 'free' only to those with paid Canva for Work accounts. Canva does offer free Canva for Work nonprofit accounts.  (Psst – just learned they have teaching materials – if you want to offer workshops, lessons on graphic design, making infographics, color theory, how design helps lesson plans – calling all teachers!!)
Adobe Spark – Like a combo of Photoshop + InDesign + Animoto? – but slightly easier. It's a good alternative toCanva especially as a free graphic design app. Works for social graphics,

web stories, short animations via text overlays on images, or to combine elements for a story. You can layer text and filters, bit like more complex Adobe tools. Spark is really 3 tools – Post, Page, and Video.

Coolors –  easy to use to create color palettes, or find complementary colors to existing brand colors; find inspiration in pre-created palettes
0 to 255 – find the tints, shades, tones (aka go lighter or darker) and accompanying hex code for any color
Picktochart

–

great visuals/infographics without much effort or searching for a graphic designer; templates for infographics, presentations, printed collateral (flyers) Free acct has icons, templates, can download and Piktochart watermark; Paid plans = more templates, add your own images, download higher res, remove their logo (start at $15/mo)
Infogr.am – Create infographics and better looking charts or maps. Use their templates, access to stock images, your imported data, and get back better visualizations. Basic Free Plan = 1 user, 10 graphics in your library at one time, 2 maps, limited 10 image uploads, can't download, the final output is watermarked. Paid plans, start at $19/mo, Education/Nonprofit pricing avail – includes more images, more uploads, downloading of final products – but … you still can't add your own logo until $67/mo acct. Boo!
Visme.co – Offers more than just infographics,  as you can create reports, social graphics, and presentations. It offers tons of fonts, free images, icons, plus add your own media. "Making boring data beautiful". You can share, publish or download. Basic Free Plan = up to 3 projects, limited templates, ability to download, some charts/widgets, but all  your projects are public. Paid starts at $10/mo (Std), 15 projects, all available templates, no watermarking, all charts/widgets, download projects as PDF too. Education + Nonprofit pricing available
Easel.ly – Easy to create infographics, timelines, process charts, visual resumes or more, Easel.ly offers nice and simple templates and designs to start with. You can also get inspiration from 2M+ already created projects. They offer webinars, demos, and design tip articles to help you get better at graphic design and representing data. (won an award from AASL for ease of use even by students) Free acct = 60 images, 10 fonts, limited templates. Paid acct = 600k+ images, more fonts, upload own images,upload fonts, download your projects, and get many more templates. $3/mo – no, that's not a typo and I did double check recently, yup, still just $3 bucks for the pro account! That said, I still have just a free one.  (Education + Nonprofit discounts)
QuotesCover – quickly get a social-friendly, shareable quote image. Upload your own, or choose wording/quote from their searchable database, then choose editor/size of image, see cool fonts/type faces (bit like playing roulette – you hit fwd/back and never know what combo comes next!) and upload your own image to use in the background.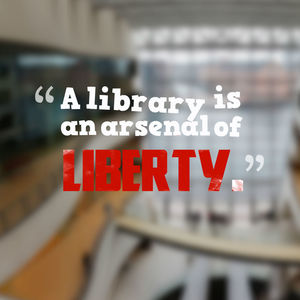 Emaze –  cloud-based presentations; templates include 3D, animations, zomming, video backgrounds (less swooping or motion sickness than Prezi!); easily turn into videos [I dislike that I can't download a copy to use if offline or bad internet connections at some conference hotel]
Need some one-stop-shops to purchase icons, vector graphics, backgrounds, patterns, mockups, or fonts from independent artists? Then you want to check out these two sites – and get on their email lists as each offers freebies every week.
Creative Market

– sign up for their emails, get notice of the weekly freebies (fonts, photo packs, vectors or illustrations, web themes, mockups – any and all things necessary for making materials look better)
Hungry JPEG – similar to Creative Market, in that you can find graphics, fonts, patterns, and more – it's a site that sells cheap design goodies. They give away fonts each week, and sell deeply discounted bundles every month.
---
Typography Tools + Tips
Font Squirrel – why wouldn't you want to get fonts from a place with this cool a name?! Tons of the best free fonts, including nearly all the ones you'll see inside Canva! If you fell in love with Roboto, Raleway, Amatic or Montserrat, this is a one-stop shop to get them. If you want that font you used on a social graphic or poster so you can use it in a PPT or a report try here, or then head to Google Fonts.
My Fonts – THE place to purchase fonts, because not all awesome fonts are free. I consider this a premier site for classics, new fonts, getting all necessary licenses and learning more about typography. Site sometimes has free fonts, offers deals via email, you can purchase matching webfonts, and easily see how any phrase looks in a variety of fonts. Also check out What the Font from MyFonts.com – when you've seen a font online or in an image or logo and want to find out what it is.
Google Fonts – for desktop or webfonts, free fonts in all styles, easily searchable
FontAwesome –free, open-source, accessibility-minded, customizeable, icon font and CSS toolkit. I love working with website themes that have FontAwesome support built-in!
Font Pair – Site where you can learn to pair free Google Fonts – e.g. Sans-Serif/Serif, or two Sans-Serifs
Identifont – for when you want to research what's a similar font to one you know. Handy if you're looking for a cheaper or free alternative.
TypeWolf – A geeky typography blog that goes in-depth. Read their font recommendations and favorites list (especially if you already have a brand font and are looking for alternatives or pairings). Also has guides available to purchase for more on selecting free fonts, alternatives to Google, using typography in design.
Butterick's Practical Typography – see the font recommendations section, or to look for alternatives to common Microsoft fonts
---

Tools for Photos
Tools for Editing
I do pay for a Creative Cloud license of Photoshop and Adobe Lightroom – mostly so I can use Lightroom for organizing and editing my own photos. I've been a serious amateur photographer for a long time, since my days with a Brownie and my Kodak 110 Instamatic with flashcubes. I'll also admit that even with classes on Photoshop, it's not my favorite tool and I hardly use it. There are lots of days I do exposure tweaks, change contrast, or fix the white balance on a photo with jus the Windows10 Photos app. Quick and simple is better than complex, perfect, slow, and unfinished!  That's why I'm giving you my suggestions on the other, simpler photo editing tools out there.
PicMonkey – filters, photo editing tools, add text, create collages – like a suped-up Instagram for your computer. [NOTE: As of late September 2017, PicMonkey is NOT free. They are focusing on becoming a 'premium' or paid app. It's not a top tool in my recommendations any more, as there are other apps or tools you can purchase.

]

Photoshop**, Lightroom** – While I LOVE Canva and other easy apps (and I still have practically no clue what I'm doing in PS), sometimes you need more powerful resources.
Gimp – (GNU Image Manipulation Project) free, open-source alternative to Photoshop. Seriously, it has all the complexity and deep tools of PS without the cost. Handy if you need to open a PSD file.
Inkscape

– free, open-source alternative for vector graphics, drawing, illustrating similar to Illustrator. Get this so can open AI and EPS files. Not a simple tool! Same learning curves as AI.
Pixlr – free online image editor, also has design and paint tools; easy to create shareable social graphics, blog post images. Use the Pixlr Express version for free, easy editing. My new alternative recommendation for a free tool with the changes to PicMonkey.
PhotoBucket – An app to store images, edit, share, and print. You can also search library of publicly available images from users (millions).
[
I wrote about photo editing tools and apps for InfoToday's Marketing Library Services Newsletter in the July/Aug 2016 issue – but the column is not available for free.
]
Photo Apps I Keep On My iPhone
I've tried dozens over the years of smartphone use, but these are the ones currently still residing on my phone.
Photogene4 – my 'do it all' editing app; filters, change exposure, contrast, color balance, add text, add shapes, share directly to social media – honestly, I wonder why I still have the other apps! [$2.99]
Likeable – create collages for Instagram or Facebook
ProCam – the app to make your smartphone behave more like a DSLR camera with all the manual settings [$4.99 – I got it free years ago – if I had to pay… eh, maybe]
Nightcap – for dark or night photos; fun with stars, fireworks, light shows
Hispstamatic – I feel like this was the app that made filters cool well before the rise of Instagram. A photography fan's take on filters, since the tool combined 'films' and 'lenses' as well as styled the app itself after old-school instamatic camera. Its 'filters' were more of algorithmic approximations of what old types or brands of film would produce. I still think nothing takes a better food pic than the Loftus (lens) + DC (film) pack.
Repost – the tool for reposting or sharing another user's Instagram pic. Boy I wish this was easier to do!
Keenai – formerly EyeFi – this app connects to the WiFi enabled memory card I sometimes use in my DSLR and lets the two talk, so I can upload to social media while on the go – assuming I have a good WiFi connection! (if you let it, it also organizes and manages all your photos)
Tools/Places for Finding Quality Photos
[
Definitely check out the column I wrote for Marketing Library Services Newsletter July/Aug 2017 issue on photo sources
]
Unsplash – my favorite, 'bookmarked-pinned-to-desktop-use-all-the-time' site for gorgeous photos. There is

definitely a certain aesthetic style of most of the photos submitted here – a low contrast, de-saturated, lo-fi style. But the photos are unquestionable attractive and not the boring, generic fare seen on the paid, royalty-free stock sites. All their photos are available under CC0 – modify, use, distribute for free, no attribution required (always nice to give an attribution if you can though). This is a featured collections chosen by artists, photographers, and creatives, so very photography-driven, all images are original. The site is searchable, but it's clunky and not wholly effective in terms of searching (because the metadata is opaque, you can't see tags for given image, tagging is spotty).
Pixabay – the other photo site I keep pinned, handy for daily use. Some days I prefer Pixabay because it's so much

easier to search and filter images if I need something on a concept or keyword, and not just a pretty picture. All photos on site are released under Creative Commons CC0, public domain, not required to give credit or attribution, free to use commercially. Site includes photos, vectors, illustrations, video clips (more limited).  Search is better than some sites since items have more tags, there are keyword-themed collections to filter by, you can deselect 'illustration' or 'clip art' type pics. Sometimes photos here have been submitted to other collections as well (like Unsplash, or PublicDomainNet).

Death to Stock – not traditional stock, but a curated collection built on themes, some will be more useful than others. Only available if you subscribe to email list, then they send free, curated pack of 10 themed, professional photos monthly. Premium members get all photos in library (~2000), Basic paid = $15/mo, 10+ photos every other week, 1500+ photo access
#WOCInTech – The Women of Color in Tech project has created a stock photo collection to finally give us a set of photos that more fully represent women of color in all aspects of technology-related work. Available under a CC (Attribution req'd) license. The actual collection is here on Flickr.
Other Photo Sites – these aren't my faves, some are royalty-free (aka you pay for license to use) stock houses; but hey, we all want options. [Note: there are more photo sites than I can, or want to, list here – but if you have a fave that's really, truly good and you think you should be here –
Sometimes you need illustrations, icons, or scalable vector graphics:
---

Tools for Video
Software on my PC
Windows Movie Maker (FREE) – not flashy, not exciting, but so simple and easy to use; for most videos, this may be all the tool you need [

OH NO!

I'll need to write a separate post on a eulogy for this beloved, underrated app – that Microsoft has killed after decade of faithful service! I was working on a project alongside creating this list … discovered my copy of MovieMaker is corrupted and as of Jan 2017 Microsoft no longer updates, supports, nor makes available to re-install. 🙁 ]
Sony Movie Studio**  [Update:  Sony sold the product – now it's just Vegas Movie Studio. Also, I do not currently have a copy on my active laptop. But I would consider buying again – the $50 version]
Video Motion Pro**  – tool I purchased, it is a download, with simple interface, easy editing, but too often glitchy
VideoPad Video Editor – after reading a few reviews, I downloaded this fully featured, free editing tool to test as my replacement for MovieMaker. The download is free as long as you use personally and not for commercial use. At first use I can say its interface is more complex than the super simple Movie Maker – not bad, but there are days you just want simple and fast! [Ugh. I have some serious complaints about this one!]
Because of software disappearing, tools not working as I'd like – I researched and wrote up a BIG review of video editors in a separate post. Be sure to go check it out for all my most up-to-date info and recommendations.
Online Editing/Creating Tools
[
I wrote about cloud-based, online editing and video creation tools for InfoToday's Marketing Library Services Newsletter in the Nov/Dec 2016 issue (article is not available for free)
]
YouTube Editor – super simple, super free. Plus, YouTube offers an Audio Library of safe, licensed music you can use in creating a video. [Double Oh NO – YouTube killed this tool as of September 20, 2017.

]

WeVideo – a simple cloud video editor that offers simple effects and transitions, an interface that is relatively clean and not clunky. Can also get apps for iOS and Droid; Free acct (5 min published video/month, watermarked); Paid acct starts at $5/month (up to 30 min video/month, 720p HD); Unlimited acct $8/mo has unlimited videos, 1080p and 4K HD, premium editing features) Discounts available for educators, nonprofits
Loopster – another cloud video editor with streamlined interface and not too many bells-n-whistles. 4 plan types: Plus, Producer, Edu/Classroom, Business. Free = 480p, watermarked, a 10min timeline; Plus = $5/mo for 1080p, no watermark, 2nd audio track, real time voice recording, 20 min timeline, slo-mo, text +graphics; Classroom costs $79/quarter for everything in the other plans plus more.  [ads on the page where you edit are annoying, but it's the 'price' you pay for free or low cost tool]
Animoto** – Animoto is a cloud-based video creator, which uses algorithms and templates to put your photos and video clips into flowing video. Not an editing tool, a photo montage, simple creation tool. (you need to edit your video clips elsewhere) There are  dozens of royalty-free music tracks you can use for free. It's added more features, become more social sharing friendly since I first went to paid version.  Lite/Free version = limited templates, 30 sec cap, watermarked at end. Paid acct = starts at $8/month, I'm on the $22/month Pro plan for more features. [Education + Nonprofit options at low/no cost avail]
Biteable** – create animated videos, logo intros, use video clips, animate a presentation; super simple to use, use one of their templates or start from scratch mix/match scenes and customize; Free acct = HD quality, publish straight to YouTube, unlimited videos, watermarked; Premium = $99/yr, no watermark, downloadable, upload own footage, 85K stock clips. I think this tool is very easy to use, more customizable than Animoto, cheaper than PowToons (and less cheesy) and they keep adding features. So I bought a copy (and use it for nonprofit work, in my workshops, and for client projects) and I LOVE it.
PowToon – cartoons, whiteboard animations; drag-n-drop objects, icons; use their templates for entire video or start scratch; good tutorials on storyboarding, writing/planning a video, plus how to use PowToon; Limited Free = watermarked, 100Mb storage, basic res, limited music and styles to use, max 5 min, can't download; Premium starts $89/mo (but they always offer deals, esp if pay whole year in advance, as of 3/17 = $19/mo paid annually), HD, no watermark, downloadable, 3 GB, more music and styles, up to 15 min video; Education plans avail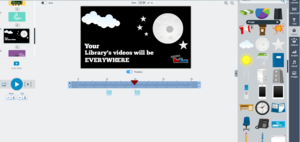 Screencasting Tools
SnagIt**, Jing, Camtasia – TechSmith

I DO recommend Jing (free up to 5 min of video), and own a copy of SnagIt. I do NOT recommend Camtasia because of high relative price, great difference between Mac and PC versions (they are NOT the same product). I just don't feel that Camtasia for Windows is worth it at $299!

Screencast-o-matic – simple to use. Screen and webcam recording up to 15 min, send to YouTube or save video file for Free. Paid with more features, fewer limits for $15/yr
Loom – new, Chrome-extension-based screencasting tool; Initial free accounts have time limit of 10min, video expires in 7 days; if you refer other people to use it, you get access to more features
Skitch – for Mac, FREE – (owned by Evernote) similar tool to Jing, but for Macs and iOS. Grab, annotate, draw, add graphics and save online (to Skitch.com)
Video Stock
[
I wrote about sources for audio/video stock to use in library projects for InfoToday's Marketing Library Services Newsletter in the May/June 2017 issue – full article available
]
Pond5 – sign up for Pond5's email newsletter – you get film-making tips and links to blog posts and tutorials, but better yet is you get a free HD video clip to download every week.
Dissolve – gorgeous video footage, easy to search site, filter by price, plus access to stock audio, music, and photos. They also offer free research assistance for any project. Check their blog for tips on shooting video, creating films or video projects.
Live Video
[
I wrote about live and streaming video tools for InfoToday's Marketing Library Services Newsletter in the Mar/Apr 2017 issue – but the column is not available for free
.]
Too many to remember? Get these cool tools in a downloadable PDF you can use whenever you need it!

---

Tools for Social Media
I use a combination of the free versions of Buffer, Hootsuite, and Social Jukebox – because each has its highlights and benefits.  No matter what you've heard or seen in offers, no one tool does all of social management and metrics for ALL the platforms (especially since Instagram really limits access to its API and doesn't want you to schedule in advance!). I use several because there's no magic solution, and I'm cheap and not willing to pay yet for any of the tools! 😉  I have done trials of CoSchedule and AgoraPulse. I use the free, limited versions of BuzzSumo and Moz's tools.
Managing + Scheduling Social Media
[
I wrote about some of these social management tools for InfoToday's Marketing Library Services Newsletter in the Mar/Apr 2016 issue – available free.
]
Buffer – manage multiple social networks and schedule posts; I use Buffer in addition to HootSuite because I like how it handles inline images in posts better. Free plan lets you link 1 account per social platform, with up to 10 scheduled posts per platform. This may be quite fine for most solopreneurs. If you need team members or to schedule more posts further out, move up to the $10/month Awesome Plan.
HootSuite – manage multiple networks/platforms and profile; auto-schedule posts; load posts months in advance (free account requires manual loading, paid accounts let you bulk schedule); collaborate with team members, save searches, monitor lists, more. HootSuite is one of very few tools that has official blessing from Instagram. All of that is possible with just a free account.
Social Jukebox – you load up your 'jukebox' with content (think 'evergreen' here) or choose one of the many jukeboxes already pre-filled with shareable content. You choose a schedule, and the jukebox automatically picks something from your list and posts it to connected social accounts. Keeps going until you stop it (that's why you fill with evergreen content – you don't know what gets shared when, and it can keep going and re-sharing over many months).
Later.com (was Latergram.me) – visually plan and schedule Instagram posts (doesn't directly do the posting though); Individuals can get a Free account, up to 30 posts/mo; Paid accounts at $9/mo, $19/mo include more posts, more profiles, more platforms
CoSchedule – more than social media management, it's a whole content management tool and scheduler. Integrates with your WordPress-based site, allows for team collaboration and project assignments, re-sharing of older content, and more. Robust – and you pay for that. I think this is the tool I'd upgrade to if I was going to pay – because it's more than social media.
TweetDeck – in my earlier days of Twitter I used TweetDeck, but after many changes and Twitter purchased it, I don't anymore. I go to HootSuite instead.
SproutSocial – full disclosure, I have NOT done a trial with SproutSocial, but an info pro colleague and social media coach does and recommends it highly to me.
Post Planner – data-driven, 'marketing intelligence' beyond just scheduling. It started as way to better plan Facebook posts, now it does Twitter too. It helps identify trending topics, figure out how to share curated info too. Pretty affordable as it starts at $9/mo.
MeetEdgar – automation for scheduling and sharing; includes re-sharing from a 'library' of your social content. I see this being used more by internet marketers, small biz with more of a budget because it's $$Pricey!
MissingLettr ** – I'm not sure how to describe this, so I'll borrow their copy: "strategic, automatic social media campaigns for a full year". You link a blog to your account, it 'reads' your new posts, pulls content and potential "pull quotes" for you and populates a timed campaign to keep promoting that content for you over a year. Nothing goes out until you approve it. [Yes, I bought access to this tool, because I got a 'can't miss' deal via AppSumo]
Monitoring + Metrics
Audiense – I'm impressed with the robust social analytics you can get just by signing up for free account. I use for monitoring and adjusting my Twitter account.
BuzzSumo

– analyze what content is performing well in a topic; see what gets shared most, who are the influential people sharing that content (so go create more like that!); Limited free searches; Paid plans are too pricey for most of us marketing on teeny budgets ($79/month. Ouch!).
ManageFlitter – sort your Twitter followers, find new ones, track unfollows, track keyword mentions, analyze when your followers are online ; limited features avail free; more analytics avail paid, starting $12/mo
AgoraPulse – social management and distribution; schedule, push content on all channels; metrics, per post analytics to help get more engagement from audience and on each platform; plus run quizzes, sweeps, contests; some free tools (Facebook Page stats, Twitter stats, Timeline contests; paid plans start $49/mo  [3 free tools, paid plans a bit pricey compared to others] AgoraPulse Barometer – access to 8 competitive analysis stats for Facebook, Twitter Analytics Report Card = free
Facebook Insights – start with the analytics tool built-in (available once page has 30+ fans); see demographic and location breakdowns, engagement metrics overall or per post; Likes analysis lets you sort organic vs promoted posts engagement;
LikeAlyzer

– simple, FREE, Facebook metrics tool; check ANY Facebook page metrics (not need authorization, just link to page); grades out of 100 + compares to competitor pages; reports include suggestions for improvement [from Meltwater]
Simply Measured

– 4 different Facebook reports; Insights repurposes data direct from FB into better looking graphs; Competitive Analysis report – compare yours to up to 10 other fan pages and get visual metrics; Fan Page Report – more depth on engagement, community, content metrics; Content Analysis report – engagement, post types, common keywords. [check out the 4 FREE reports, but the main data suite is TOO PRICEY at $500/mo]
Sociograph.io – analyze any Facebook page for free (after become registered, authenticated user); reuses some of FB data on likes, posts, comments plus shows av. # of likes, shares, comments; go all the way back to when page first created; simple, visually attractive stats
Tagboard – search hashtags from Twitter, Instagram, Facebook and more. See what else others are saying around hashtags you are using or interested in – double check before you use that tag in your post to make sure it means what you think it does! You can filter results by network, and you can save your results.
Bit.ly – shorten and track links you share; paid accounts can get custom branding; don't forget you can customize a short link – BUT not if someone else has already used that particular word/phrase/spelling – they can't be reused. Argh
[
I wrote about social media monitoring tools for InfoToday's Marketing Library Services Newsletter in the May/June 2016 issue, but this column is not available for free.
]
---

Tools for Productivity
Writing Tools
[
I wrote about writing tools for InfoToday's Marketing Library Services Newsletter in the Sept/Oct 2016 issue – this column is available for free
.]
CoSchedule's Headline Analyzer –  let Coschedule's tool grade any headline you input; see where to improve by using more evocative, emotional language.
Grammarly – find and fix errors Word misses, improve clarity, discover synonyms, and get feedback on the errors you make– all in one tool and with nifty browser extension, so you can check your work inside your email, Facebook, or anywhere you write online. Free (paid Premium adds more grammar rules to check, works in more places, more detailed writing improvement tips). [For months I loved Grammarly sitting in Firefox, following me everywhere and suggesting corrections – until it started slowing down websites, fighting with my WordPress editor. So I don't use it as often lately.]
Ginger Grammar Checker – because we don't all make good editors of our own work, and word processors still miss a lot of grammar mistakes. Ginger finds and corrects more mistakes than a word processor. Free, downloadable tool, also with mobile apps.
Hemingway – a proofreading tool to clear up your copy and get rid of unneeded fluff; it highlights complex sentences, over use of adverbs, passive voice and other mistakes
Readability Test – test readability of test via direct input on site, by referrer or by URL; test a document or entire web page; gives Flesch Kincaid Grade Level and Reading Ease, a Gunning Fog score, others (it explains what values to look for on results pg); Why – b/c avg American adult only reads comfortably at 7th grade level – keep your content around there to maximize comprehension, ease of reading and improve experience onsite
UnSuck It – get rid of jargon
Planning, Project Tools
Evernote – the popular tool for organizing and saving content, syncing across apps and computers; good for writing and organizing notes, thank to search features and tagging; plus save photos, docs as attachments; share notes in workgroups evernote.com  I've had an Evernote account for probably a decade, and added the paid version a few years ago so I could have full offline access to my notes – letting me work while traveling. I seem to go through spurts now where it's my preferred note tool, and then don't touch it for month or two. I do love how easily you can search notes, add a photo in a note (what was that book I saw for my nephew), or clip a web article from any device.
Trello – project management, planning, visual team collaboration; Boards have lists, filled with cards – cards can have checklists, comments, members, attachments, images; email or browser notifications of comments, changes; Free version is VERY robust for solos and teams. I don't know if it's my favorite, but I DO know our LMCC team, spread across North America, couldn't have planned and executed 3 national conferences if it weren't for keeping everything together in Trello (and meetings on Zoom!).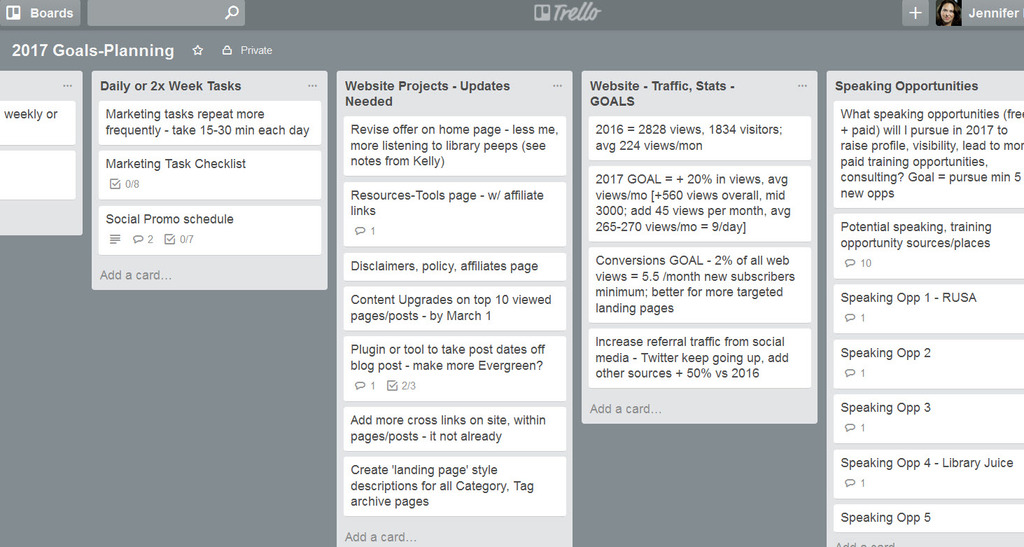 Asana – team, project management and tracking; dashboard, assignments, clear visual tracking of progress; Free = up to 15 team members, unlimited projects/tasks, basic dashboard; Paid starts at $8.33/member per mo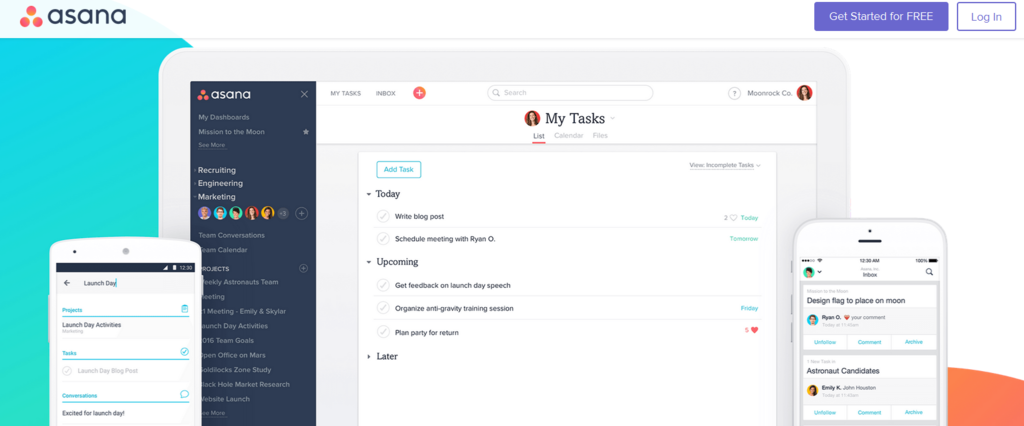 Zoho – suite of tools/apps for work and biz (project management, CRM, email, process reports, surveys, chat, forms, contact manager, help desk, finance/accounting/invoices); mobile + desktop; nearly all have Free levels; not always super intuitive [I've tried Zoho CRM, Projects, Surveys over the years – eventually I went with other tools in nearly every category, mostly because Zoho doesn't have the most intuitive interface in any category, sometimes too complex a tool for what I need.]
Communications
Zoom** – You can do webinars, web conferencing, video conferencing, team meetings, tutorials all with this one tool. More stable than Google Hangouts (I've used this as a participant and/or host for 2+ years and virtually no connection issues, no significant issues of any kind!) I had the Free plan for a year = unlimited 1:1 web calls, 40 minutes for groups up to 50, advance scheduling, recording, screen sharing, chatting, join by phone. I moved to a Paid plan in 2017 – it's a relative bargain start at $15/month. I really wanted the option for unlimited time meetings for up to 50 people (so I could host longer group calls, offer my free webinars with ease), others can join toll-free, there is meeting reporting, custom mtg ID, cloud storage of meeting recordings. I really do love Zoom!
Join.me – easy to start/launch web conferencing and screen sharing. You don't need to have an account to share. Free acct = 10 mtg participants, 5 video feeds, screen sharing, internet calling; Paid (starts at $18 /mo) = 50 mtg participants, 10 video feeds, recording, scheduling, customization, no ads
Don't forget, you can have a downloadable PDF of this MEGA tools list.

See, told you I was a tool geek/collector! I have other categories I may add, and there will be pages for my marketing bookshelf and my own personal audio/video/photography gear.  Seen a tool you want to know more about or want ME to know and add here? Let me know!