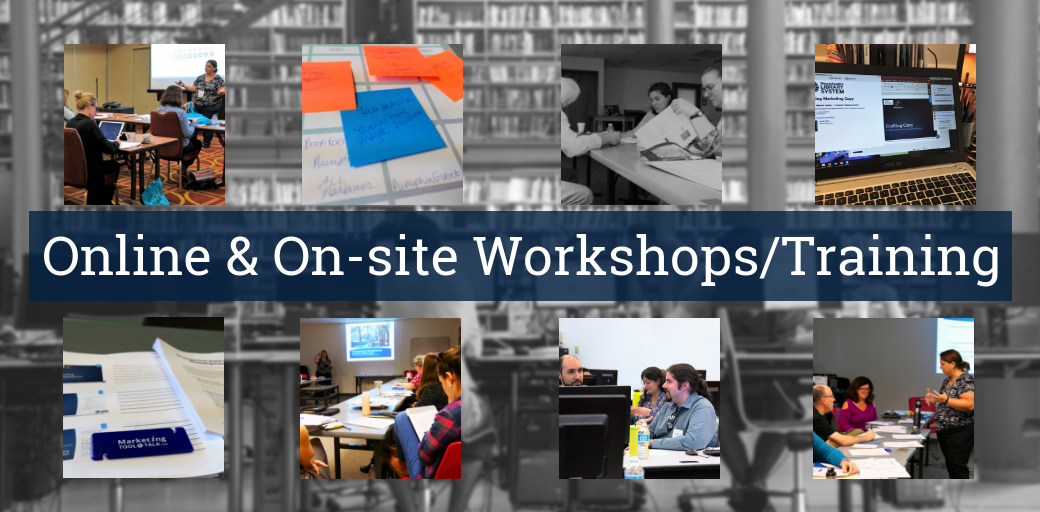 I'd Love to Work With Your Library or Library System to Get Your Team the Marketing Skills and Confidence They Need
Customized Training Opportunities for Library Organizations
Libraries continue to change and transform, and library staff will need additional skills, refreshers, and boosts to expand their knowledge, education and training – outside of formal LIS programs or library conferences.
The ALA mentions that "continuous learning is critical to renewing the expertise and skills needed to assist patrons in this information age", and I agree. Things change quickly, especially in areas of marketing communications, marketing technology, social media, and best practices. Library staff, management, directors, deans, and other stakeholders need to be aware of those changes and keep up their skills, to better communicate the value of the library and assist its users. You can't afford to fall behind.
You know all of those 'other duties as assigned' and 'things they didn't teach us in library school'? I'm here to teach you what our LIS programs didn't in terms of marketing, PR, outreach, and communications for library advocacy.
Why hire a consultant or trainer for continuing education or professional development in marketing communications?
Because you want …
A staff confident in their skills is motivated to give their best to library users and the community
A confident, engaged staff can more easily fulfill the library's mission
Staff confident in their communication and marketing skills can raise the library's visibility and message in its community
To customize training to fit the needs, expertise, levels, and available time of your staff
Constantly updated training programs and materials that reflect ongoing changes, trends, and best practices in marketing and communications
A mix of in-depth looks at key marketing topics, highlights of hot trends to be aware of, as well as to brush-up on essentials
And you want me because I have a unique blend of skills, knowledge, education and background – as a former advertising/marketing executive, with my M.S.L.I.S plus 5+ years as an IMLS-funded PhD research student, and almost a decade as a teacher/trainer/writer/speaker on library marketing topics, I'm well positioned to help your library, library system, library consortium, or library event to put together the training you need. [read more on my background here. I've been told I'm somewhat of a unicorn in our field! I assure you, marketing isn't really magic. 😉 ]
Online Training/Learning Benefits for Library Organizations
Workshops and webinars help address some of the most challenging library issues in marketing, communications and PR – we work to tackle hot topics around advocacy, outreach, library branding and brand advocates, market research, customer service as marketing, communicating value beyond our users, and more. Presentations and materials include case studies, examples, top trends from outside of libraries (let's learn from our nonprofit neighbors as well as the corporate marketing world), best practices, and the tools to implement what's learned. Training sessions are interactive and open to collaboration with active discussion encouraged.
Popular, Ready-to-Go Webinar Topics:
Marketing FUN-damentals or Marketing 101 Refresher
Setting SMART Marketing Goals
Content Marketing – Make it Work for Your Library
Strategic Storytelling as Library Marketing and Advocacy
Compelling Copy – Persuasive Writing and Storytelling in Marketing
PR + Media Relations Basics – aka PR is NOT the Same as Marketing!
Telling Your Library's Story With Video – Easy & Affordable Options
Top Marketing Tech and Tools to Know
On-site, In-Service Training/Learning Benefits for Library Organizations
Cost-effective – you pay to send one person (me) to training and not your whole staff
Time-saving – no travel for staff, less time off from other duties, multiple topics can be covered in half or full day sessions
Convenient for participants
Flexible, schedule accommodation – we find the days/times that work best for you
Group learning, team-building, knowledge sharing
Organization-wide skill-, talent-building
Popular, Ready-to-Go On-Site Workshop Topics:
Marketing Fundamentals – Putting the Puzzle Together (inc a refresher of basic concepts plus exercises, group work, review of existing marketing plans and materials from attendees)
Good marketing starts with a strategy. Not the events, the flyers or the social media posts. We work through your organizational goals and how they translate to marketing goals, then strategies and finally to actions. How to measure the effectiveness of your actions and when to change course; how to figure out the right marketing mix for your library and community; and the 10 components of a fully strategized marketing plan. This workshop includes examples of plans, tactics and content that libraries can use to build plans for their communities and users. There is always ample opportunity for interaction, sharing successes and questions. Get the strategy first and your marketing will be smarter … and easier!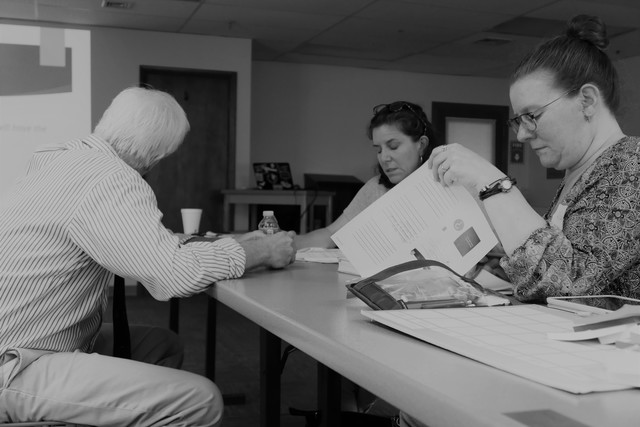 Lights, Camera, Action! Telling Your Library's Story on Video
Who knows stories better than libraries?! BUT … we often don't do a good enough job of telling our OWN story. So, let's get better at it. How you tell it on video can also be used in other formats – but let's go straight for this supreme story superpower first.
Video is a powerful storytelling medium. It's emotional, inspirational, educational, interactive … and growing all the time. Are you using it to spread the news about YOUR library? Why not? No one knows stories better than libraries! Get the facts on video marketing, basic tech tools and tips and get your story shared. Learn how to tell your library's story with video marketing in this hands-on workshop. You CAN do video cheaply, easily AND effectively.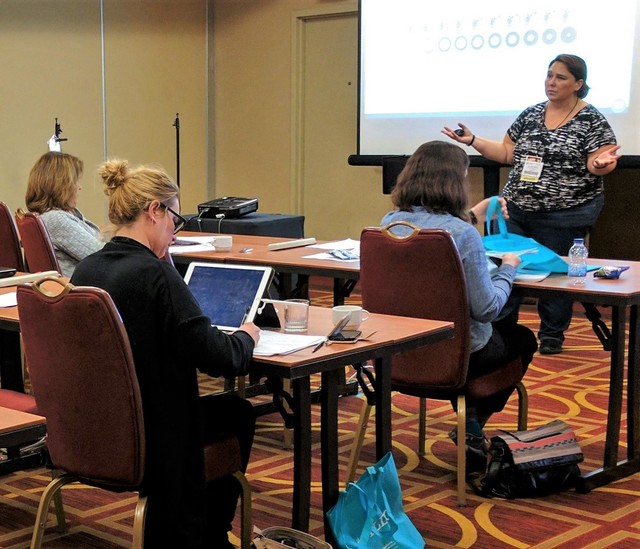 Content Marketing + Content Creation for Libraries
Content marketing is applicable well beyond the business world – nonprofits are jumping on the bandwagon. What can your library do to take advantage of this new way of marketing? We will cover what content marketing is, and what it's not; why you're probably not using this technique; why you should care about content; the basics of a content strategy and the 6 types of content all organizations need to have in their creative tool kit.
Crafting Compelling Copy – aka Persuasive Writing for Marketing and the Stories You Need in Your Messages
Libraries are masters of stories, but are we as good as we could be at telling our own story? We know that people respond enthusiastically to stories, more so than statistics, numbers, or dry facts. Marketing is just a form of storytelling, using some consumer psychology and persuasive language. Creating marketing messages is different than writing a news article, or a personal blog post. Marketing is about inspiring action – so how can your words inspire your library's audience to take the action you want? You don't have to be a master marketer or copywriter to take advantage of best practices that can apply to all the forms your message may take – from social media posts to speaking with community stakeholders. Learn some of the 'tried-n-true' copy-writing hacks and formulas that have driven years of success in the marketing world. Learn to share messages that matter and the stories that will resonate with your community. Tell your library's many stories in ways that connect and inspire action.
Other topics, such as those below, are available as webinars or in-person workshops for your library, library system, library consortium, state library, or library conference. Topics and training can be adapted whether your team has 30 minutes or 3 days.
Topics here not quite fitting what you need? Let's talk and develop training more customized for your team and situation.
Additional Key Library Marketing Topics:
Avoid The Top 10 Marketing Mistakes Nearly Every Organization Makes
PR 101 – You Can't Just Throw Press Releases Out There!
Content Creation Mastery for Library Content Marketing
Word of Mouth … or Word of Mouse? Getting People Talking and Sharing
Smarter Social Media Success
What's a Content Calendar (and why your marketing plans need one)
Video Marketing – Without Fancy Gear, A Studio, or Stephen Speilberg
Crafting Copy – Writing for Persuasion and Marketing
Design Tips for Non-designers
Not Another Boring, Cluttered Flyer: Graphic Design Tips and Tools Round-Up
Library Marketing Plans Made Easy … and Shorter
[to see past presentation titles and locations please see my publications page or feel free to ask about past topics from the Marketing Tool Talk.com webinar series]
Workshop/Training Pricing
All material remains copyright and property of Jennifer and IntelliCraft. Most pricing is negotiable and will depend on location, travel, associated costs. Certain discounts may be available – hey, don't assume anything, let's talk! 😉
Webinars – prices depend on length and if you are keeping a recording available for staff, team, members for unlimited time duration. All webinars include handouts and additional resources. [range = $300-500]
In-person Training –  all workshops include multiple handouts, worksheets, additional resources and offer for follow-up emails with participants to answer questions. [let's discuss pricing, as ranges depend on how much customization of topic/materials, location, if travel costs are not included or are reimbursed at cost]
Half day [range = $700- 900]
Full-day [range = $800 – 2000]
multi-day [range = $1500 – $3500+]
Complete Custom Workshop Design and Instruction – additional fees, varies by project
*Discounts may be available to small and rural libraries
*Discounts may be available if booking multiple shorter duration training together or in to a full-day bundle (e.g. agreeing on a 3-6 webinar series upfront could see a discount, combining (2) half-day workshops on the same day could be discount)
I understand and recognize budget pressures in the library field and will do my best to work with you and your budget. Always contact me and ask what we can do together!