Libraries and Banned Books Week -Thoughts + Ideas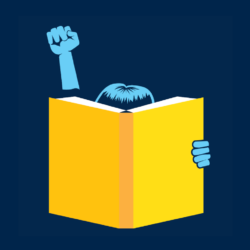 Standing Up for the Right to Read – Celebrating Banned Books Week
Banning Books? That doesn't still happen, does it? Oh yes it does! Amazing that library professionals still need to bring attention to this after more than 30 years of Banned Books Weeks. And we need to bring attention to the freedom to read during the other 51 weeks of the year too!
[Updated for 2017]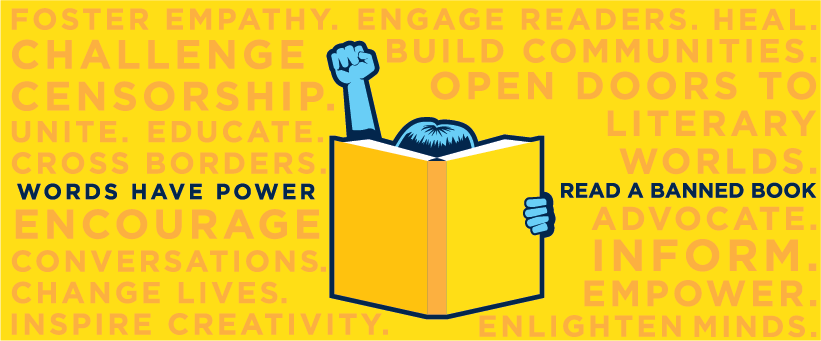 Yes, "banned books" is a great attention grabber – but it's also still a legitimate issue. If librarians and their allies in the fight for intellectual freedom, the freedom to read whatever you want, didn't keep battling, than challenges would turn into outright removal of material and banning. The First Amendment is one we all hold dear, and the talk of 'freedom of speech' is often in the press. Let's not forget that 'speech' carries to the written word as well.
An annual event celebrating the right of all individuals to read whatever they choose. All Americans should value the freedom to read, but librarians in particular uphold a professional ethic to be committed to free and open access to information, no matter your age, race, ethnicity, gender, location, income or ability. Banned Books Week is a time that authors, publishers, booksellers, teachers, librarians, journalists and readers everywhere can come together in support of this fundamental freedom.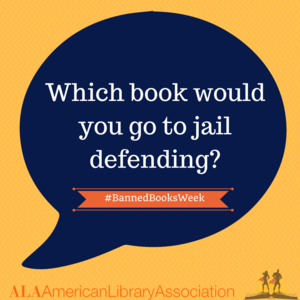 We may not like every book out there, but we will protect your right to read it. Librarians will continue to fight attempts to restrict access to books, which continue to happen in so many communities. Our freedoms as Americans mean you can have differing opinions about a book and you can express that point of view and choose not to read that book, nor to purchase it or borrow it for you or your family.
However, teachers, librarians, and their allies will continue to fight those who challenge the mere existence of certain books or materials in a collection or try to prevent others from reading or borrowing those books. Most challenges come from generally well-meaning folks, often parents (perhaps over-protective ones), who find something that is in their point of view, 'objectionable' or 'offensive' in a library or on a school reading list. They may think they are protecting their child, and 'all the children'.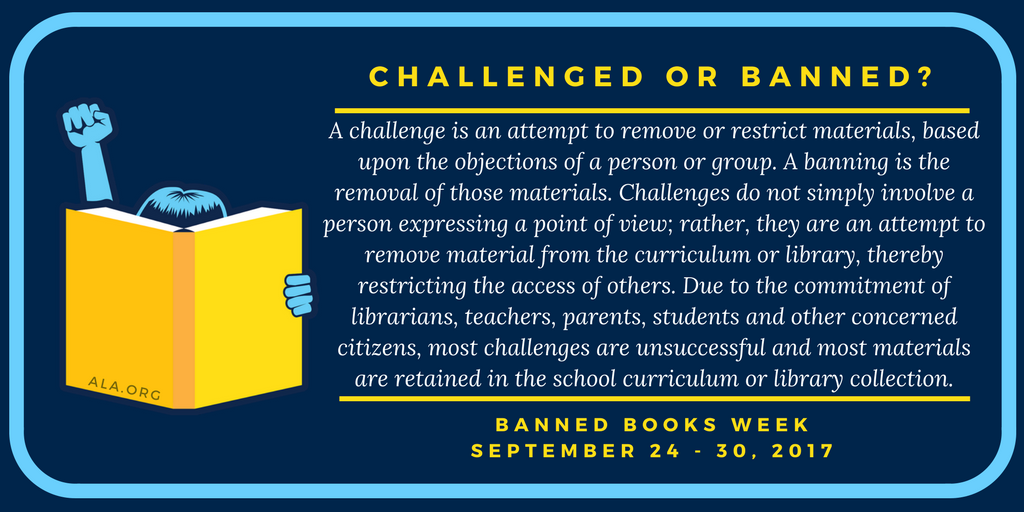 But challenge isn't expressing your point of view, it's trying to impose your view on others by removing materials from a library, classroom, reading list or curriculum. If you want to 'protect' your child – fine. Don't borrow the book, don't buy it, don't read it. While I personally think kids should be able to read whatever they want, if you don't want your child to read a particular book – ok, don't borrow it for them. I think you'd be better of reading it together and having a discussion rather than ignoring topics you don't like – but it's your right and choice NOT to read for you and your family. It's not your right to tell me, my family, my entire class, my school, or my library what we can all have as reading options.
You do not however get to decide what other people, including other children, may read.
That's a threat to the freedom of others and can't be abided. In those rare instances where library and information professionals lose the battle against challenges, materials are removed or restricted in public libraries and schools – that's banning books. And that's censorship.

If you're a librarian who is facing a challenge and isn't sure what to do – ALA has resources to help you. Check out their Challenge Support page.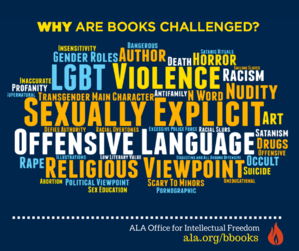 I still remember reading Fahrenheit 451 in school, and watching the original movie. Irony, the book has been the subject of intellectual freedom challenges, from publishers censoring some of Bradbury's original words, to frequent challenges itself! My mother, a former English teacher, insisted on me studying the book and watching the movie. We watched it together probably on a VHS rented from Blockbuster or a local video shop. It was long before I studied film or film history in school, but I remember how strange it was that the title, the credits for the cast, all the information normally seen on screen, was instead spoken aloud. The information solely from screens was a little too prescient! I also still vividly remember the ending, the exiled 'book people' walking in the forest, reciting the books they have memorized in order to preserve them. There was quiet at the end of the movie. Then our discussion, with my mom asking me 'what book would you be?'
It's probably changed over the years, with what I read. The question really hit home when I studied intellectual freedom and professional ethics in library school.
I still haven't figured out which book …
There are so many books that might need me.
Guy Montag (firefighter-turned book saver/protagonist): [holding book in his hand] "Behind each of these books, there's a man. That's what interests me."
Banned Books Week in the News
Did you see this article from the Washington Post about how the DC public library is hiding once-banned books around the city on a giant scavenger hunt of awareness for censorship?! Even better, local businesses are involved and if you find one of the previously challenged or banned books, you get to KEEP it. Special wrappers explain why a book was challenged. Awesome idea, great press coverage (it's being shared virally like crazy) and a FANTASTIC marketing stunt.  Check out #UnCensoredDC on social media. If you find one of the books, post a picture.
Libraries of all types across the country participate in Banned Books Week and create innovative, creative displays and events for their users and communities. Academic libraries at both large state universities and community colleges, rural, city and county public libraries, school libraries and more all get into this important cause. It's great to see local press covering these events – well done library PR teams!
Banned Books Week + Intellectual Freedom Key Resources
Want to see a video of the Top 10 Most Challenged Books of 2016?
Here's the video for top challenges in 2015
or check the list of challenges that ALA (American Library Association) has compiled based on reports from schools, libraries and the media across the US.
30 Years of Liberating Literature – a visual timeline
American Library Association's main collection of resources on Banned Books Week
Banned Books Week Facebook page, Banned Books Week YouTube channel
Elementary Librarians and Banned Books Week – resources specifically for younger students
ALA Office for Intellectual Freedom –  OIF blog; on Facebook
Check out this recorded webinar with 50 Banned Books Weeks Programs ("Fifty Shades of Banned Books")
Freedom to Read Foundation – on Facebook, on Twitter
Celebrating Diversity  – because books with diverse content, from diverse authors are frequently challenged [See this page for ALA's definition of diversity – including people of color, LGBT people, disabled persons, those suffering cultural or social isolation, those discriminated against because of appearance, ethnicity, sexual/gender orientation or expression and many more statuses.]  See also the discussion around the great hashtag-turned-foundation, #WeNeedDiverseBooks
The Kids (or Young Person's) Guide to Intellectual Freedom – Kids, Know Your Rights!  – PDF poster you can print
Fiction About Intellectual Freedom  – another good way to start what could be difficult conversations, especially with kids
Banned Books Week coalition site – an umbrella site from several organizations supporting events during Banned Books Week

Doing Outreach Around Banned Books Week (now and ongoing)
This is a great opportunity for librarians to reach out to teachers and staff in their schools and colleges, to community stakeholders, Friends of the Library, Board members and community leaders to talk about the importance of intellectual freedom to us all.
Discussion starters:
Can we talk during lunch next week? I want to get your feedback on a conversation I plan to have with my principal about some ideas I have for Banned Books Week. What's worked well for you?
Can I take a look at your library's challenge and reconsideration policy? I think ours needs some work and I want to see how other good policies are worded.
We've updated our policy for handling the challenges of library materials, as well as our selection policy and I thought you might like to have a copy in case of questions from community members or the media.
Hi – I'm the only librarian in my district and I was hoping you could help me by sharing your policies on dealing with challenges to books and how you deal with intellectual freedom in your district.
More on Difficult Conversations on Difficult Books
Intellectual freedom also means selecting and collecting books we personally don't agree with (different than choosing a book that's factually incorrect – don't do that)
So, You Bought a Racist Book for your Library- Now What?
A good discussion of how this happens innocuously (the original reviews were good, they were on an automatic pre-order, didn't see the warning signs in snippets of text [or none available], or unaware of controversy around a book) and how librarians deal with this challenging issue. See also the link to an accompanying post about dealing with accusations of censorship in how a library chooses to select materials. The post gives some excellent tips on being more deliberate in the selection process – which is not at all the same as censoring materials.
A Virginia school is KEEPING some 'controversial' books on its reading list, after they had initially been pulled. This sort of back-n-forth goes on more than many think.
During the 2017 National Library Week, ALA's Office for Intellectual Freedom used its blog to highlight the top 10 challenged books of 2016, why the books were challenged, and comments from the authors. Here's the highlight for challenges to Rainbow Rowell's Eleanor + Park.
Displays for September and Banned Books Week
With a special note of admiration for all the librarians who keep creating awesome displays and bulletin boards, only to have the BBW displays THEMSELVES challenged, often within minutes of their appearance.
[Pro tip from other librarians: "Well, we will not see eye to eye on this. Here is a copy of our library's selection policy, our reconsideration forms, and a copy of the American Library Association's policy on intellectual freedom. Would you like the phone number of (boss, director, supervisor, or Board member who will support you). Have a nice day." ]
For every instance of indignation, I hope there are more moments of 'oh, wow. Why would someone challenge that book?!' and a discussion follows. With book checking out hopefully following THAT.
1000+ images of ideas for Banned Books Week Displays – oh my, thanks Pinterest loving librarians!  This is the ALA's Pinterest page of BBW display ideas.
TONS of Ideas for Displays from ALA – including real examples (but darn, no pictures)
Thank you Facebook-sharing librarians for all your examples!  I see lots of use of Caution Tape!
 Need a quick Banned Books Week handout? Use these infographics – see how many you've read!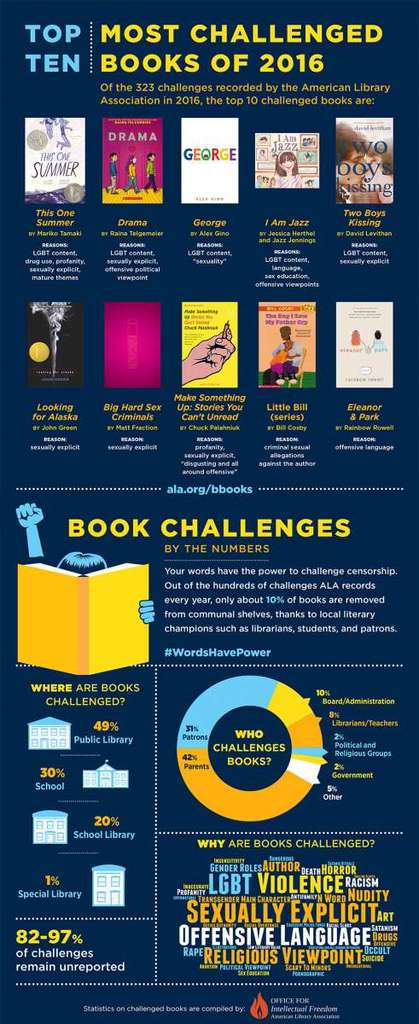 For these infographics and more posters, social media graphics, coloring sheets, counter cards, flyers and more – visit the official download page from ALA.