No Slacking This Summer at IntelliCraft!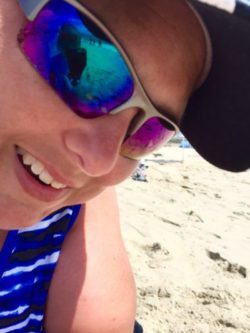 This summer will NOT be down time for me!
To keep myself on track personally and professionally I am taking steps to make sure there is no summer lull, no summer slacking, only productive time. To do so I've enlisted some help with setting and meeting goals. It's also a plan to stay connected to other independent info pros and solopreneurs so we don't get lost and lonely in our offices at home!
I've joined a fabulous MasterMind group of fellow independent info pros.
We meet virtually in a hangout every 2 weeks and have a shared spreadsheet with our goals, progress and obstacles to completion. We are learning together the importance of setting manageable goals to move our businesses forward, plus the key of accountability. Each meeting we have to check-in and state whether we met our goals and if not, why not. We hold each other accountable, but also give feedback on whether a particular goal is SMART. Was it really achievable or realistic in that two week time frame? Did we break up a larger goal into more specific components? I teach this in marketing planning and it's been great to work with other similar business owners to implement in our own work and to help others to create SMART-er goals.
For me, I joined for the 'hold my feet to the fire' aspect. I can create and set goals – but I need the check in and nudges to make sure I stay on track. The positive vibe and encouragement is also very helpful – as solopreneurs working at home we miss that aspect of work.
Productivity + Organizational Coaching from Linda Stacy of LivingBluPrints
I also made a deal with a fellow info pro to barter some services and brainpower when we met up at AIIP15 in Irvine, CA.
Linda knows I'm a marketing pro, a techie and someone pushing visual marketing and video marketing. After all, she'd just seen me spending hours filming the AIIP conference and interviewing attendees to use in AIIP's own marketing! Partly because of that, I was feeling ragged after doing too much, wearing too many hats and not planning as well as I could have in my conference role, AIIP duties and my own business. I said: ' I think I need someone to teach me to organize my life right.'
When we talked at an ice cream social about her new coaching business and speaking gigs and trying to better promote herself, we each saw light-bulbs flash! Linda would use me as a test subject for some new coaching plans, she'd get me organized and back on track, and I'd do some marketing work for her. We'd barter and I would maybe edit or create videos, write copy and offer some marketing coaching. We were each other's ideal client and more than willing to trade services, share stories and work together.
I can say that so far Linda is indeed getting me on track, organized, and clearing my mental and physical clutter. All while she's in Boston and I'm in Philly. Phone coaching, brilliant email follow-up, worksheets, homework, and sharing of spreadsheet ideas all work well for us virtual, solopreneurs.
Between the Mastermind and Linda's coaching, surely I will not be a slacker this summer at IntelliCraft Research!
I also did a really successful and popular professional development webinar for AIIP members in late July on Email Marketing ("Share Value + Get Invited into Their Inbox"), with Charlene Burke (no relation). Look for me to share some of the same learning and teaching on my own site or as a course. And if you want, you can buy access to the awesome, info-packed webinar from AIIP.
Plus, there was a much needed vacation week at the beach. Ok, with family, but it was still the beach and there was wine, sun, sand, bikes and decent food.