Top Tools I Use For Making Marketing Easier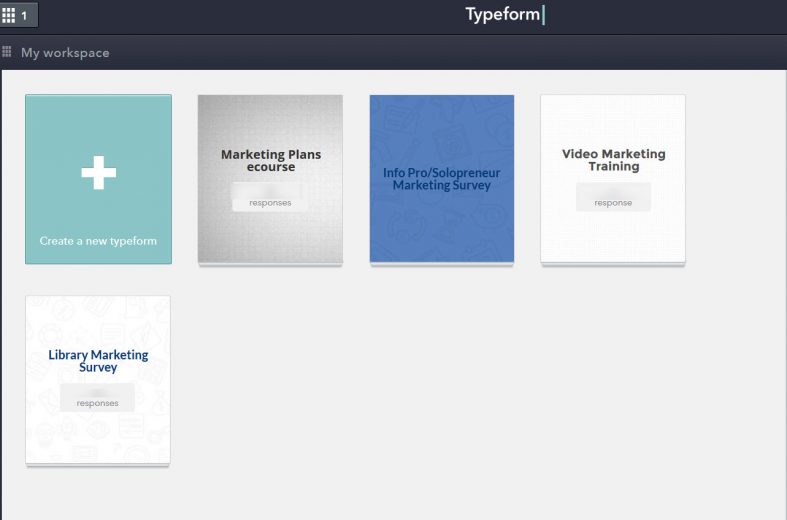 18 More Tools For Marketing
In January I talked about setting good, SMART goals for your marketing plans for the year. You're working on that and setting up the action steps to meet your goals, right?!
But we need the right tools to set actions in motion to meet those goals. Tools can make our marketing jobs easier … and more fun!
Many of my favorite tools for marketing are free, or have free versions. I'm budget conscious just like you! That's why I try very hard in my presentations and  workshops for libraries to give really budget-friendly tools and recommendations (mostly free!). Library marketers need help to save time AND money. Sometimes the free versions of apps or tools are more than enough … and sometimes you 'get what you pay for'.
There are a few marketing (or productivity) tools I pay for because the extra features are worth it and save me time, which is money. Or they save me headaches!
Whether you are a small library, a nonprofit or a solopreneur like me – it can pay to check out all that's available and choose what makes your work run smoother, even if that means paying $10-20/month. You can end up saving more in the long run.
How do you know which to try and what they could do to help you?

I admit I'm a tech, tool and gadget junkie – I am constantly collecting, trying, testing and discarding tools. But there are just so many tools out there! I read recommendations, I ask colleagues and I try them out. So I can give my suggestions to you.
I recently sent out an email with my 5 most favorite marketing tools and I'm going to be writing a column on tools that will be especially helpful for libraries in their marketing and communications. But my tool list is always growing! Here are nearly 20 tools I think are excellent and worth your time to check out.
I hope this list of favorites and my soon-to-test tools will help you build up your own toolkit. If there's a fave of yours I'm neglecting – email me or Tweet at me and I'll update the post!
Some of My Favorite Marketing Tools I'm Using Right Now

Audacity – simple, easy to use (most of the time) way to record and clean up audio. Use a USB mic and your computer to record simple audio only tracks. Insert the audio into a PPT presentation and make a quick voice-over slides video; record audio and make a podcast; trim up the 'umms' and 'ahhhs' from a recording you did on a webinar, teaching call, or any other audio/video project. And it's FREE. 100%, open-source, always free. You can also download from SourceForge (make sure wherever you download you don't get any 'extras').
Jing – by TechSmith – the makers of the awesome Camtasia, SnagIt (Disclosure- I own a copy of this too) and other video software. Jing is a super easy, light weight screen capture tool for still images, animations and videos up to 5 min long. It also stores your videos on Screencast.com (another TechSmith tool) for easy, free sharing. YES, FREE screen-caps. As long as you keep that video <5min, you may not need any other screen-casting/screen-capping tool.
Zoom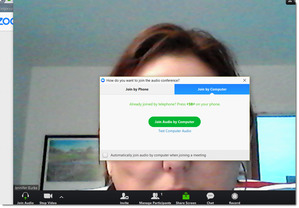 – my new favorite video conferencing, webcasting, webinar app – because the FREE version is awesome, has so many features and is more stable than Google Hangouts. The paid versions are reasonably priced, especially versus similar tools, and I'll probably go pro soon. Easily share screens, record meetings, join by telephone dial-in, schedule meetings and even host breakout rooms. The free version lets you hold a meeting with up to 50 participants for up to 40 minutes. You can have unlimited 1:1 meetings. The $15/mo plan (still a good deal but I wish I jumped in at $10!) lets you have unlimited duration group meetings and cloud-based recording with additional reporting tools and join options.
Join.Me – easy screen-sharing tool for web-calls. Download the desktop app to use Free version. Free has instant screen sharing, video conferencing and internet VoIP calling for up to 10 meeting participants. Mobile apps for iOS and Android for meetings on the go and a new mobile whiteboard app for iOS – seems pretty cool! Easy to set up meetings on the fly or from your calendar.
I just got done gushing about Zoom, so why another web conferencing tool? Because there are different flavors, tools and styles for all of us and I have colleagues who really like this one too. I've jumped in some Join.me sessions lately and appreciate how easy it is to use and how quick to get online for a meeting.
SumoMe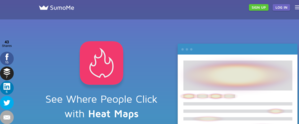 – free version and paid – a net set of tools to improve your website, help increase traffic/conversion and boost your email list. Includes easy way to add social sharing icons/buttons, opt-in boxes, email pop-ups – a good way to grow your list and build your biz. Also has tool for checking which parts of your site or webpage get the most attention from visitors [HeatMap]. It works with nearly all the other major marketing tools (MailChimp, AWeber, GetResponse, HubSpot, emma, Constant Contact, etc). Pro/paid plans include more features in the various apps, A/B testing, more insights/analytics.
Buffer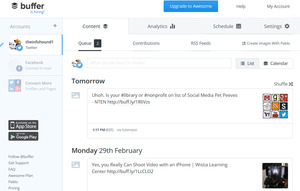 – yes I use HootSuite and Buffer. I liked when Buffer gave suggestions for content – that's gone – but you CAN connect Buffer to sources of content to have it autoshare for you (e.g. hook it to an RSS feed). Yes, the free version is a bit restrictive – 1 social profile/network and only 10 scheduled posts. Analytics are nice, but more robust and easier to see than HootSuite. Buffer has also been adding other social tools – including an image creation tool, Pablo (to go up against Canva perhaps?!) And for some reason, its native image sharing has been better than HootSuite's – posts with images via Buffer get me more engagement. Once you have the Buffer browser extension added it's easy to share from anywhere online and it makes darn near every picture on every webpage into an instant Tweetable, shareable post.  Awesome Paid Plan = $10/mo [up to 10 social profiles, up to 100 posts scheduled, more varied schedules, more feeds connected] , Small Biz Plan = $50/mo
ColorZilla – a browser extension that lets you see, get code for, or copy any specific color you see on any website. Little eyedropper icon sits in your browser toolbar and helps you 'grab' some color that catches your eye.
Coolors

– a color palette generator. Always wondering what colors go together or would look nice on your site, in a brochure, on a flyer or in a presentation? Have a main brand color and need to get nice, coordinating, non-hideous accent colors? This is the tool to help even the most non-designers look like pros and have well-designed marketing materials.
Use the browser feature to see pre-designed color palettes by other users. Or click Generator and start looking at random palettes. Hit the spacebar and it acts like a slot machine, spinning you some new color choices. OR … mouse over a color and click the lock icon to SET that color and 'spin' again to match up some new choices to go with your saved pick. You can also enter the Hex code for a color you already have or use by mousing over the #code at the bottom of each color stripe.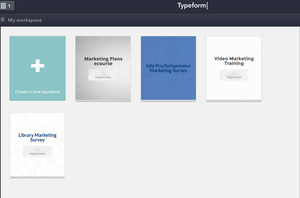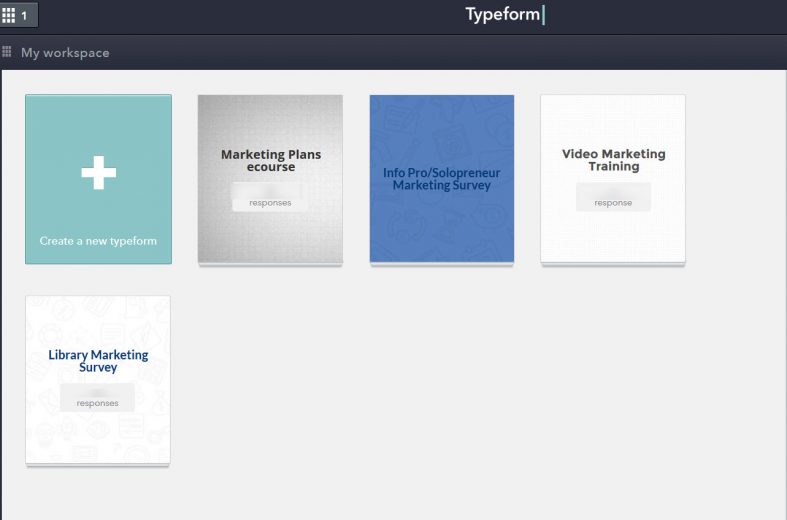 TypeForm – my new favorite survey/poll tool. I've worked with SurveyMonkey (easy, lots of tools, the 'leader' but also clunky and limited in free version), GoogleForms (FREE for more responses and questions than SurveyMonkey but not as user-friendly or aesthetically pleasing), tried Zoho too … but have decided I'm in love with TypeForm. It's elegant and gorgeous and fun and easy and nice to look at … and did I say EASY?! Want to check out one of my surveys to see how great they look and how simple and quick to take?
Yes, I do have more favorites and mentioned several of them in my latest email newsletter. [Hint: my choice for email marketing, the design tool I've been using since it was in beta, my OTHER social media scheduler, and the tool I pay for to create landing pages and spiffy ways to join my email list … ]
Would you like to get more tools for marketing and other tips via email?
Sign up here and I'll send you a guide with more top marketing tools across 5 key categories.
Tools on My List to Check Out:
Because I'm always checking out other tools to see if they will work for me or are worth recommending to clients, I have a running short list of what I'm going to test or use next. These are tools I've read about in multiple places or that have been suggested by colleagues or other marketing folks.
Auphonic – another tool for recording and cleaning audio, billed as 'podcast post production'. Let a tool do the audio processing for you. Well, that's simpler than Audacity and worth checking out. It's free for 2 hours of monthly processing, after that you buy credits for how much you need. Cheapest plan is $11/mo – and the credits do NOT roll over – so if you aren't sure you will have that much audio to clean up, don't buy a monthly plan. Stay free or look into one-time credits.
Calibre – free, open-source, ebook management and a clean way to convert a PDF into a book for your Kindle. Not that a Kindle or Kindle app can't handle a PDF (the app does well – actual Kindle devices, not always). You did know that Kindle has its own proprietary electronic document format, right? So here's a bit of a workaround.
Slack – the buzziest and busiest tool around these days! A cross between IM, chat, forums and the water cooler for having team discussions. I think I need a team or to find a group to see the real power or potential here.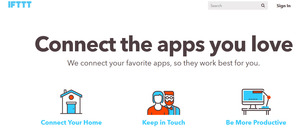 IFTTT – If This Then That – I've heard so much about it from fans, read about ways to use it, and have been, frankly scared, to play with it. It intimidates me. But I gotta go check it out because others swear by how much time it can save by automating simple (or complicated?) online tasks, especially social media sharing, reposting content, handling email, staying on top of news and trends and more. I also hear you can find pre-made IFTTT recipes that others have created so you don't reinvent things – that's where I need to start.

Zapier – a related automation tool that I have to sort out – it connects apps and online tools together to let you get more done automatically. It hooks the APIs of tools to talk to each other. [No, I don't completely understand that, or not well enough to explain it – check out their FAQ] For example, I could have my TypeForm responses go automatically into a Google Spreadsheet .. if I could just get the hang of Zapier.
Rescue Time – not exactly a marketing tool per se … more a productivity booster, because it shows you where you are wasting time online and tells you to cut that out! I'm still not sure I want a spreadsheet and detailed analytics of the time I spend on Facebook or Twitter … hey, sometimes that IS work!
Boomerang for Gmail – a Gmail extension that lets you schedule when an email will go out from Gmail. You can use it for client follow-up, for help in avoiding email during your work time blocks and even sending yourself email reminders in the future.
YesWare – email tracking, scheduling and more; know when a client opens that email with a proposal; know when a media contact opens your event story. NOT free. Cheapest plan is Pro at $12/user/mo, includes an iOS app. If I had a lot of leads to track, reports or proposals to check on with prospects or clients, or was more of a 'sales' person – this would probably be a no-brainer. Not sure I'm there or need this level of email tracking.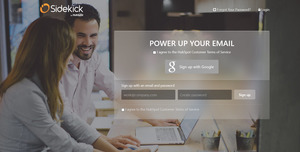 Get SideKick – from HubSpot A FREE email tracker (another reason not to use YesWare? Probably!) – see who opens emails, attachments and even if they view webpages. See their social profiles, your contact history, mutual connections – all in inbox (hmm, that sounds like Rapportive). Lets you schedule emails for later. (Wow, so I don't need Boomerang?!) This thing is really free?! Free has up to 200 email notifications per month, unlimited profiles. The email scheduling appears to be a feature yet to come. Still, this is a tool I'll be checking out sooner rather than later.
What else should I put on my list to check?
Want More Tools?
I'm now writing a column on tools to use for Library Marketing for my friend Kathy De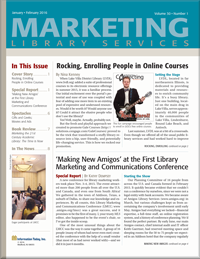 mpsey, editor of MLS from InfoToday. I'm really excited about this! First column is in March issue and I have so many tools I want to share that any that don't make the new column will show up in extra blog posts like this one! If you want more tips and resources on marketing for your library I highly recommend a subscription to Marketing Library Services.
Don't forget, if you're not already receiving my email tips – join my email list and I'll send you an ebook with 30 more tools and tips for making marketing easier.