Video Marketing Big Deal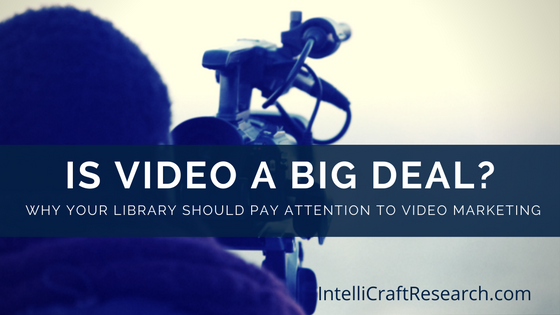 Is Video Really That Big a Deal for Library Marketing?
Or …
Why Your Library Really Should Pay Attention to Video as Part of Your Marketing Plans
Have you had a conversation with yourself lately, or your boss or your community stakeholders, and asked "why on earth should I be investing my valuable, overworked time on video?"
Or you wondered, "do I really need a video strategy? Or this another social fad?"
Or have you found yourself in your Facebook feed, watching yet another video, pondering, "is everything going to be video on social now?! Is this thing really the golden ticket?"
And considering how many other library and marketing hats you're already wearing, I know you are asking the question – "how can I realistically find time to spend figuring out creation, promotion, sharing of social video. I've got other things to do too!"
Yup. I hear you.
I have heard those questions.
BUT … you know you need marketing tactics that are efficient and effective, delivering big bang for the buck (or lack of bucks); tactics that are standing out in our busy, content-filled world and feeds of library users.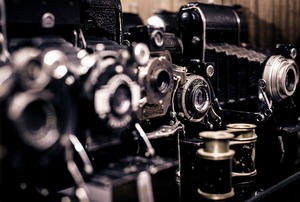 Right now, that's video. Video IS bang-for-the-buck.
Video gives you presence, engagement, a way to be more interactive, to sound like the warm, caring humans you are, and really show off your library's story. Literally show, not tell.
Still not 100% ready to believe me that video is a MUST-HAVE in your library marketing toolkit?
Ok. Research time …
We Watch a TON of Videos Online

Find more statistics at Statista
Video Isn't All Cats and Kids
Video, and YouTube particularly, is not all music videos, silly kids, or cute cats. Not that there's anything wrong with kids or cats videos! But your community is already watching and sharing video. Video is a HUGE traffic and brand booster already for both consumer and business-to-business marketing – and it's a growing part of the mix for nonprofits too.
Video is HUGE in Marketing Already – Other Types of Organizations and Brands Know This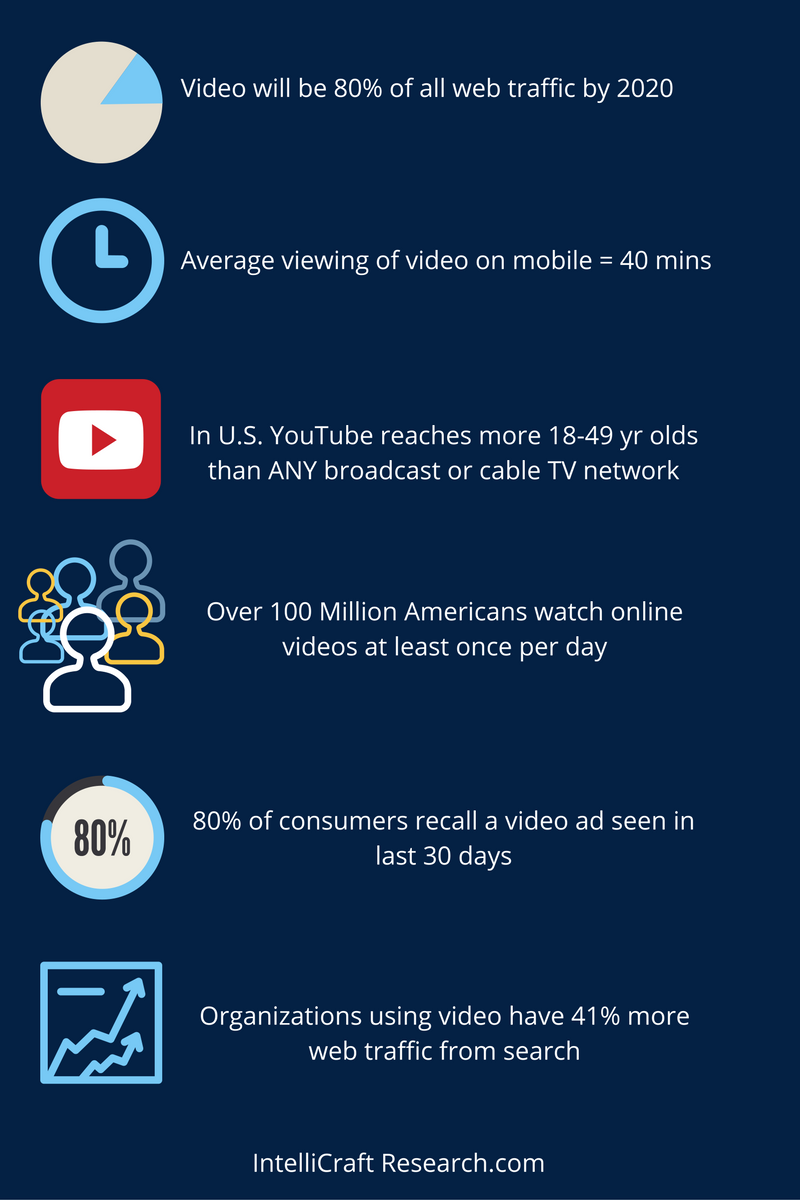 Marketers Say Video Works
Video Can Boost Traffic
Video in an email leads to 200% increase in click-through rates [Forrester research]
Orgs using video have 41% more web traffic from search than non-users of video [Adelie Studios report via HubSpot]
Video can drive a more than 150% increase in organic traffic from search engines, according to Brightcove

62% of Google searches include video [MarketingLand]
Yes, Video Rocks on Social Media
Facebook is now dominating as place to share and distribute video content – seen as almost 9x more impact than other social platforms. Probably because Facebook shows preference to native FB uploaded video vs. shared YT links -> higher reach [research from video animation/editing tool Animoto; backed by Adelie Studios report]
But YouTube is still platform projected to see most growth in paid video promotion
And people still watch 10X more video (on web and in-app) on YouTube vs. Facebook [VentureBeat]
87% of nonprofit marketers use video as part of their content strategy [CMI]
YouTube is the 3rd most used social platform for sharing content among nonprofit marketers: 77% use YT (behind Facebook and Twitter – each with their own large video presence) [CMI]
Nonprofit Marketers Like Video Too
I'll get into this deeper in other posts, but just because libraries and nonprofits aren't "selling", doesn't mean you don't have a product and a market, right? You still have to 'sell' and communicate your ideas, your programs, services and your core message to your community. Video offers a huge potential to boost visibility, sharing and interaction in your community. You'll be joining a growing crowd of nonprofits using this tool as part of their content marketing strategy.
So, yes, video marketing IS a really BIG deal and your library needs to be paying attention. And you need to figure out how video fits in your marketing plans, your content promotion, your social media strategy. If you aren't already using video (YAY!), then after seeing these stats you know you need to be using the power of video to tell your library's story!
And I'm here to help you do just that.
… "stay tuned for more" …