Gathering User Feedback-Polls Quizzes Survey Tools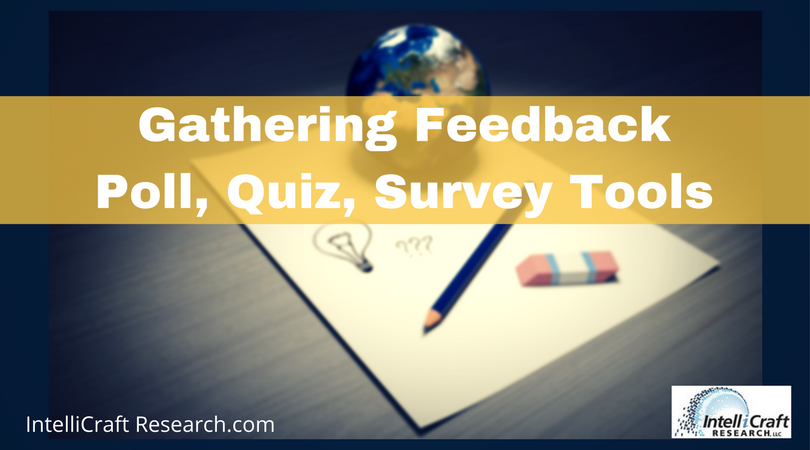 How much do we really know about our library users and what they think of our marketing?
You can always learn more if you use tools to help you easily create quizzes, polls, or surveys. Then gather feedback you can use to make your marketing and communications efforts better and more on target.
The better you understand the audience you are targeting with each marketing message, the more likely you'll have success with that marketing. When you understand your users or customers you can:
Direct them to the right products or services
Write more descriptive product descriptions
Write more effective, on-target marketing copy
Create the right graphics
Present compelling messages
Sounds a lot better than promoting services they don't want, writing copy that fails to engage them, creating generic or boring graphics, or missing the mark with your message – right?!
Surveys, polls, quizzes, and similar tools get you feedback you can use and act on quickly to understand your audience and tweak your marketing.
Don't wait for access to the big name, expensive survey software, or until you can get all your questions vetted by all levels of administration. Don't wait until you learn all the bells + whistles of the advanced software out there. Use what gets you insights right now!
Did you know that a PR pitch based on a survey in your area of expertise is like catnip to the media?
Because they make writing a story easy!  So, in addition to a survey being a great way to get feedback on your library's programs or events, get insights from your users, and get inside their heads a bit more – the results become content you can use for marketing, public relations, and promotion efforts.
be prepared to offer the media a copy of your survey results summary in addition to your press release; even better, create an infographic from the results that the media can run to accompany the story.
an example of this – from ALA –  reporting on an ALCTS survey about the costs of college textbooks and how academic libraries could offer more affordable options.
legal librarian with blog post about an annual "Start/Stop Survey" – gathering feedback from users on what products to continue with … or not. "One of the most valuable pieces of knowledge a librarian can have is understanding of products/services/roles that should continue or end." Survey from Jean O'Grady
Feedback Tools – Online Polls, Quizzes, Surveys
Surveys
Survey Monkey – the literal gorilla in the room for online market research and survey creation.  See their tips on nonprofit surveys. So you can compare the well-known tool to others mentioned, here are the basics on the Monkey: Free = 10 questions, 100 responses, 15 ques types, 40 short survey templates. You do get access to question library, but NO logic, custom branding, or exporting of data. Lowest paid plan is Standard, at $35/mo. They do offer discounts for students and educators (nothing mentioned for nonprofits).
Google Forms – part of their office/business suite of tools. Free, simple, quick to set-up. Create a poll, pop quiz, collect emails, do event registrations – all the things all the other survey tools do. It's been updated – so maybe it will be more stylish – one downside it that it's not visually pleasing, looks dated, and a little unprofessional.  You can add page branching and skip logic – something that costs $$ for many other tools. Easy to export data to Google Sheets.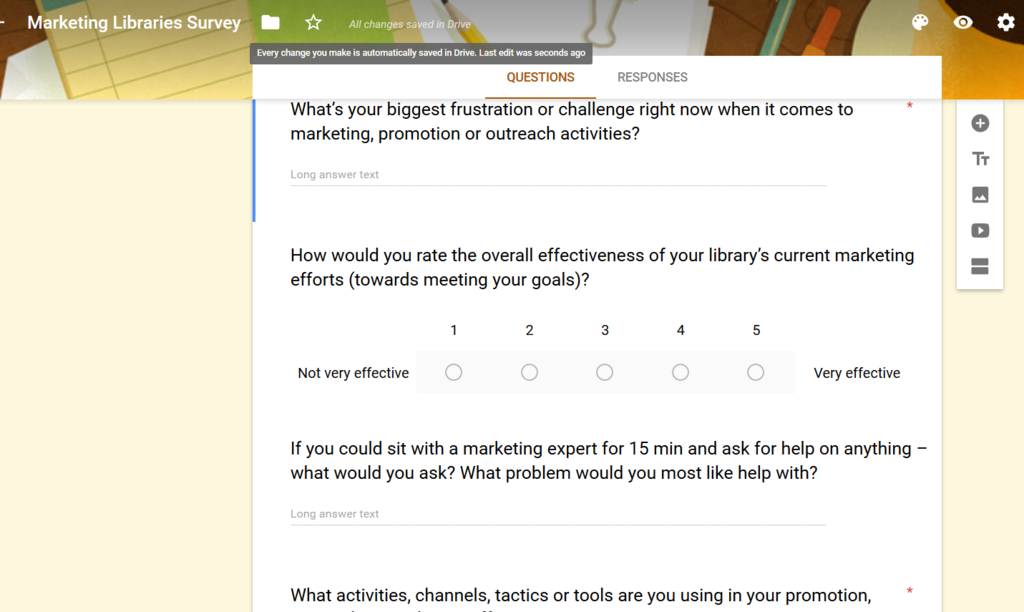 Typeform– In my opinion, a much better designed survey app and interface than Survey Monkey or Google Forms and my go-to the past few years. They boast of higher completion rates because the surveys are personalized, welcoming, and more engaging. It's easy to create contact forms, polls, surveys, quizzes, tests, registration forms, and more. Use icons or graphics as part of questions or the answers. Answer piping means response to one question can be automatically inserted into text of later question. Free Basic plan = create as many forms as you want, max of 10  fields/form,100 responses per form. Pro/Paid = unlimited fields and responses, logic jumps, other specialized features, from $30/mo. Discounts available for students, teachers, and NGOs.
Survey Gizmo – Get started on free plan: 3 surveys at a time, up to 100 responses, 25 question types; Paid plans starting at $25/month. Read one of their nonprofit case studies. A clean, modern interface, attractive surveys, and loads of features for less than competition means this could be best alternative to Survey Monkey. Their Free plan allows for 3 active surveys, with 5 pages, unlimited questions, 100 responses/survey, sharing via link and multiple question types (some conflicting info on their site as to how many available free). You need a paid plan to get unlimited pages/questions/responses/surveys, more questions, sharing via social media, and skip logic or advanced styling. Their Basic plan is $25/mo and has a ton of features; many you won't find at same price with Zoho, Survey Monkey, or PlanetSurvey. Says it offers deals for nonprofits, but must request contact.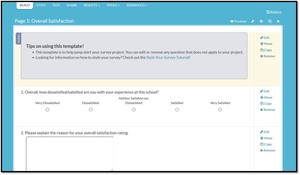 Zoho Surveys – one of many in the Zoho suite of tools, this is their free (and paid) survey offering. Free = unlimited surveys, 15 questions, 150 responses, 50+ templates, and sharing via email, links or social media. Interface is basic, but more features than SurveyMonkey offers free! Cons- No logic, no customization, and NO exporting data or reports.  Standard (cheapest paid level at $19/mo) account include more responses (2500/mo), unlimited questions, custom branding, page/skip logic, advanced reporting and more. Paid monthly/annual plans are cheaper than Survey Monkey.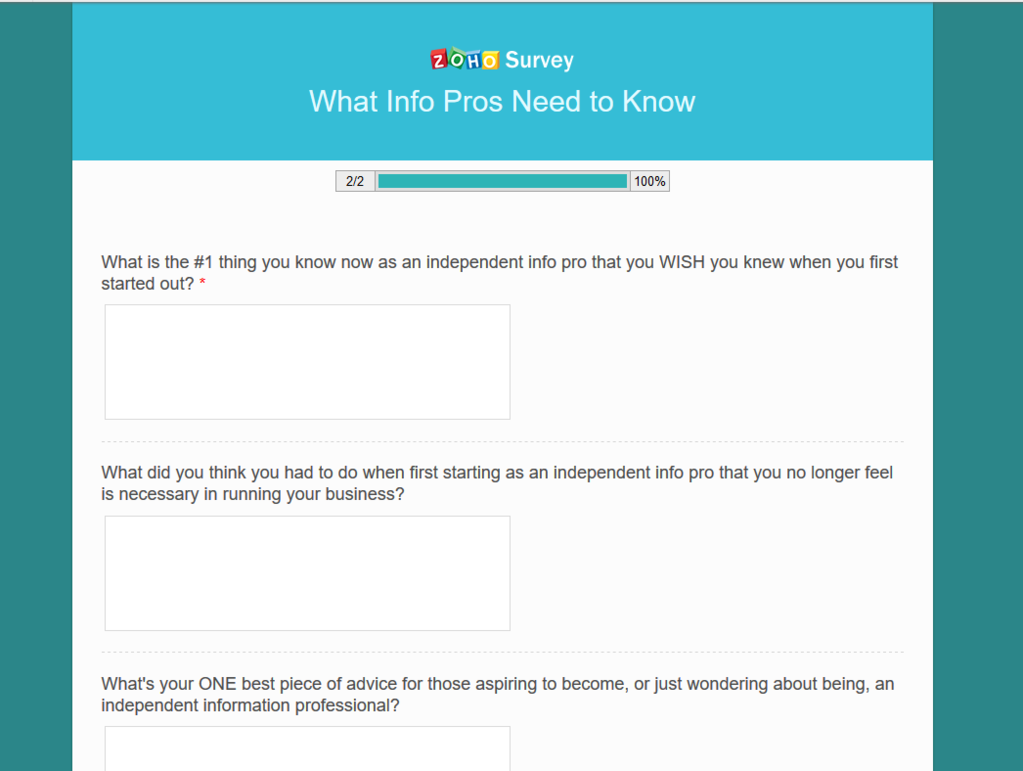 Question Pro (was Slim Surveys) – Access hundreds of templates and more than 20 themes even with the free account. Social sharing is integrated as well as being mobile-compatible in the free plan. Also create quick polls for user feedback. Free version = 10 questions, up to 100 respondents, and choose from 15 most common question types; no skip logic nor exporting to Excel (starts with Pro $15/mo plans). Academic and Nonprofit licenses are available and give more features. Students can get free survey software at Pro level.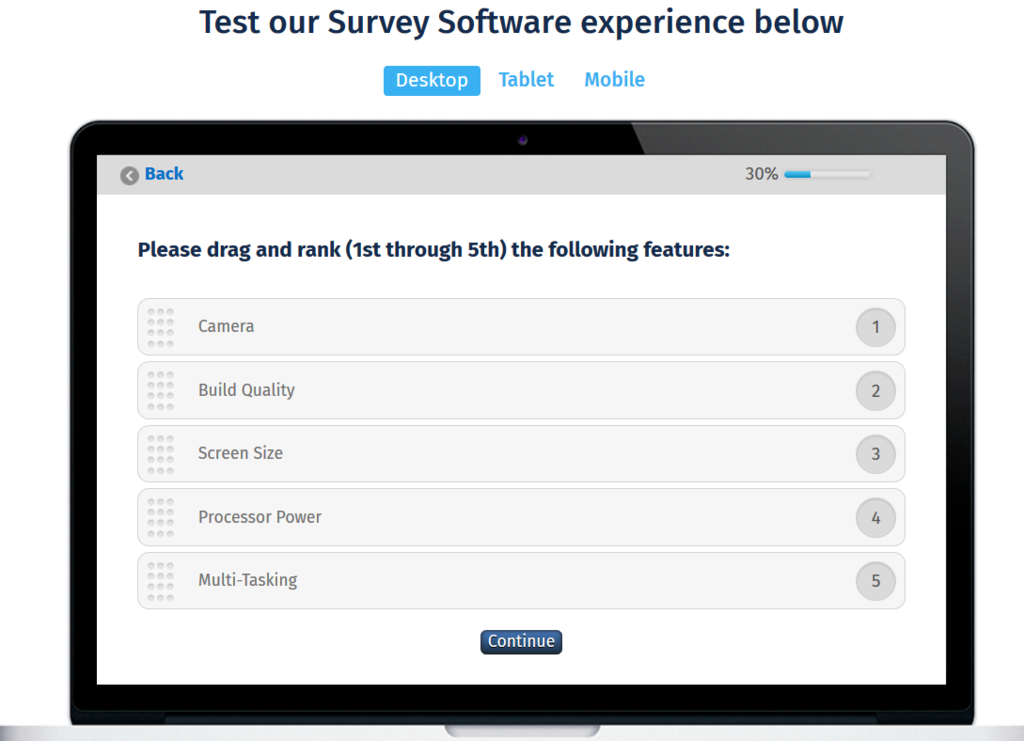 Survey Planet –  Offers a very reasonable, attractive free option. Their free plan includes unlimited surveys, unlimited questions, and unlimited responses. See a live preview of your survey as you edit. Choose from over 90 pre-written surveys if you need inspiration, basic theme options, plus easily share on social media and email. What you can NOT do free: export the data, or add branching or logic. Paid plan is $180/yr (or $20/mo)
Survey Nuts – A simple tool with few bonuses at paid level (picture polls, BuzzFeed style quizzes, word clouds of results). The real bonus – no account needed to start a survey. Free version has unlimited responses, max of 10 questions per survey, several design themes. Need paid version for more questions, branching logic, and ability to download data ($19/mo)
WuFoo – a tool for more than just surveys, this is a complete online forms app. There are templates for online orders, registrations, event invitations, tracking and more. This robust online app offers more than 400 templates, dynamic visual reporting and lots of flexibility. Free plan = 3 forms, 100 entries, 10 fields, 1 user and 3 reports. Cheapest paid plan = $15/mo for 10 forms, 500 entries, unlimited fields, 1 user, form rules, logic, and more. All plans create forms easily shared to social media and WuFoo works with many other apps. [now owned by SurveyMonkey]
Quizzes/Polls – perfect for social sharing
Why are we talking about creating quizzes on your site or for your social media?
They give users immediate results, interactions, and personalized content in exchange for very short amount of time – much less than a survey or many polls.

Because they are GREAT marketing content, and apparently we humans can't resist testing ourselves with a quiz. BuzzSumo (a nifty social monitoring site I've mentioned/shown in previous webinars) has found that 82% of users will take a quiz if it shows in their social feed!
Engagement is the rule of the day now on social. Quizzes get interactions and shares.
They're fun. Gamification makes learning something about yourself, your friends, or a brand, exciting and fun.
See also:
How to Create a Quiz Like Buzzfeed

from Hubspot

Case study of an optical brand that used a quiz to match users to perfect glasses frames – taken over 400,000 times and generated more than $1M in sales since 2015.
A b2b company generated 19% more demos to sales conversions because of personalized content and product info based on quiz results
The Tools
Qzzr– create, share, embed your own quizzes good for building social traffic; simple, mobile-friendly;

Basic Free = unlimited quizzes, basic customization, watermarked (their branding, not yours);

Pro is bit pricey ($300/yr; $25/mo) [as of Jan 2018, I see they've eliminated the Basic. Boo.]
Riddle quiz maker – Basic plan from $9/mo; Embed on your website, unlimited quizzes/polls, create marketing leads; integrates with WordPress, email marketing software, social media; free plan has Riddle branding (remove watermark and add customization w/ $49/mo plan)
Playbuzz – interactive polling, quizzes, countdowns, stories; use their templates to get those viral quizzes popular on social media and embed on your own site; Free
PollEverywhere – real-time polling, surveys, feedback during a class or presentation; responses via Web, text or

Twitter

; Free and paid, special education accounts; free version allows 40 responses per poll, unlimited number of polls, multiple question types, live word clouds and templates; Paid version starts at $19/month, with versions for higher education, K-12, and nonprofits.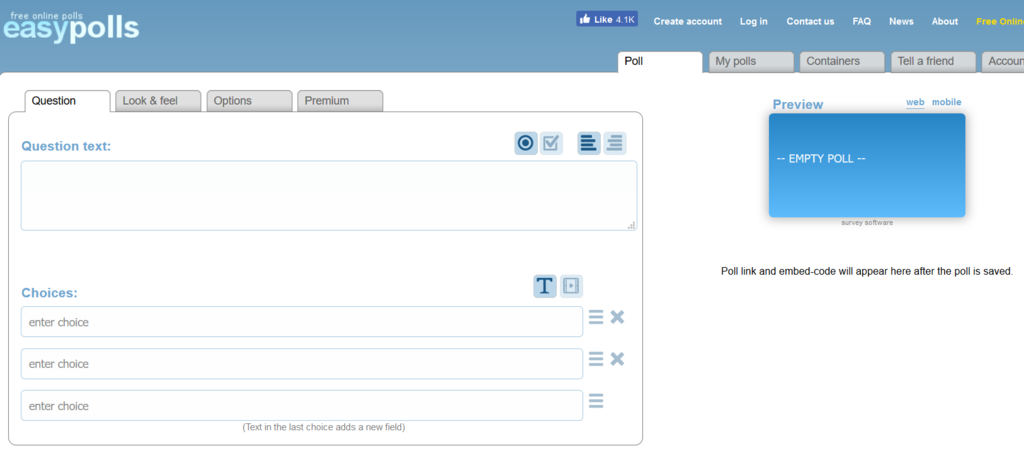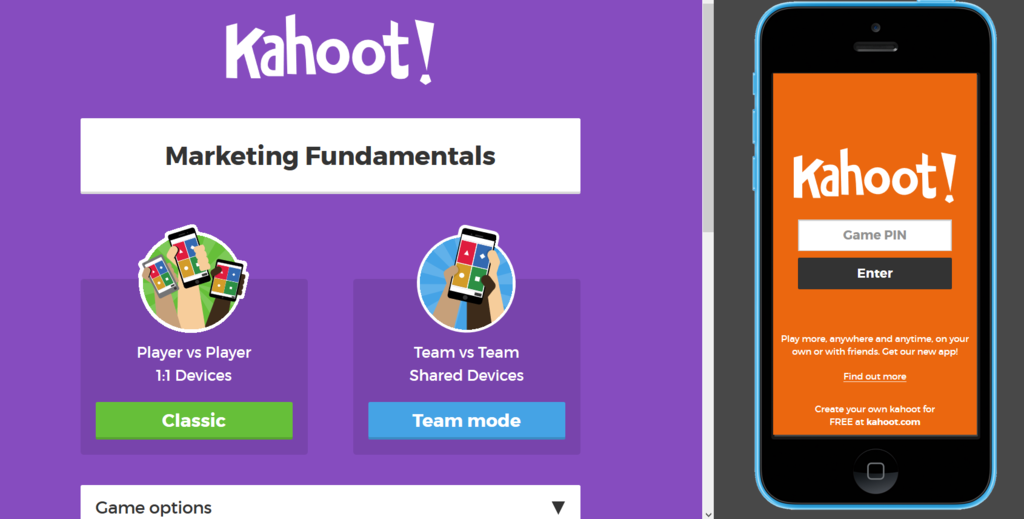 Online Quiz Creator – Plans starting at FREE ("Tiny Owl") for unlimited quizzes of a max 15 questions each, 100 played games/month; more questions, responses, question types, and stats with next tier $20/mo ("Smart Owl")
I'm currently using Kahoot for assessments during and after my library marketing workshops ('play' along and take the Marketing Fundamentals quiz). I love Typeform. I've used PollEverywhere during conference presentations (such as CILDC) and would do so again. And I'm willing to try out PollDaddy since all my websites run on WordPress.
Want to see MORE of my fave marketing tools that fit a tight budget?Check out my tool recommendations for my notes, reviews, and picks across a variety of common marketing needs. .
Which of these tools have you used or will you try out next? Let me know how it goes!
I demonstrated some of these tools during one of my Marketing Tool Talk webinars. Make sure I have your email so you get an invite to the next FREE Tool Talk webinar!
​​Stay on Top of Hot Tools in Less Than 60 Minutes a Month

​Want to avoid common marketing mistakes and headaches? Learn the top tools - without doing all the research?
You ​CAN with the FREE monthly Marketing Tool Talk webinar.

[parts of this post are adapted from my September 2017 column on survey tools for InfoToday's Marketing Library Services Newsletter]