24 Types of Stories We All Crave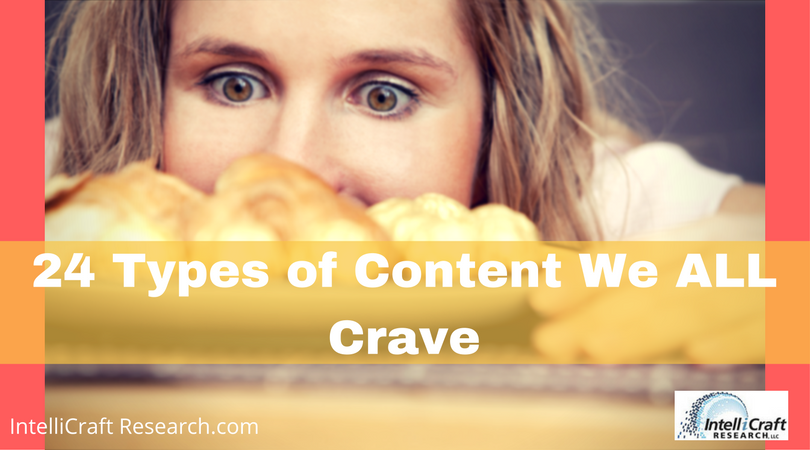 24 Types of Marketing Content (aka Stories) That We All Crave and React To
Content – substitute the word 'story' and you can see how so much of content marketing becomes more applicable and relatable to library promotion.
You know your community, your patrons and users, your customers. What will appeal to their emotions, their interests and their needs right now? What stories will grab their attention and direct it back to your library or info center? Be sure to be authentic and really deliver on the emotional tug, don't play up 'tired' news or latch on to the latest 'hype' just for the sake of short-lived attention.
People want REAL stories. And you – yes, you the library- have them!
To take content to next level, make it stand out. Be bold, be visual, be real.
Think of this as a way to "give it some 'seasoning' with these types."
Also, look online on Twitter and Instagram for #contentwecrave tag.
Combine more than one of these themes or types in 1 marketing content piece, video, blog post, social shareable as makes sense.
These 24 types of stories are also perfect for cranking out some engaging library marketing videos.
content that reminds us that life is short
content that reminds us that dreams can come true
content that gives us faith to believe in bigger things
content that reminds us that we matter
that reminds us of the overlooked or forgotten 'basics'
that has unexpected twists
that tells a story
that takes us along on the/a journey
that inspires us to action
that makes us laugh or smile
that makes us cry (from joy or sadness)
content that reveals secrets
that surprises us
that encourages us to never give up
content that reminds us that we are one-of-a-kind and encourages us to live that way
that reminds us that there's more
that confirms our assumptions
that challenges our assumptions
that educates while entertaining us
content where David defeats Goliath
that gives us a fresh point of view even about common things
content that makes us more productive or efficient
content that is genuine, makes a connection to reader
content that helps save time, money or other resources
Want more ideas on the stories your library can – and should – be sharing as part of its marketing? I have some video ideas I would like to email you.