Greatest Myth of Content Marketing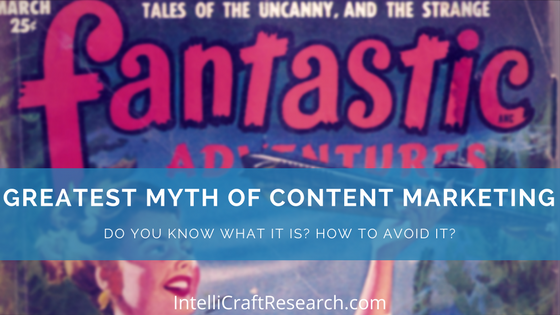 Do you know the greatest myth, the biggest lie of content marketing?
There are PLENTY of myths circulating out there in marketing circles about content marketing. Misinformation, stats that apply too narrowly, 'success' that's wildly over exaggerated, wishful thinking, and just plain confusion.
But I think there's a BIG myth out there, maybe the biggest, because it's one that we tell ourselves as we are creating content.
What is it?
We buy into a myth that what we are creating is definitely for our audience –
our customer, users, patrons, or other members of our key audience.
[
sigh
]
Sadly, that's  too often wrong. It isn't actually for them at all.
True content marketing SHOULD be about and for the audience –  your reader, your customer, user, patron, or donor.
But we are often lying to ourselves or believing a myth. It's not malevolent! We are working hard at creating what we think our community needs to hear.
But … we're lying to ourselves as we write, shoot, post and tweet.
What really happens in a lot of content creation – We write for ourselves.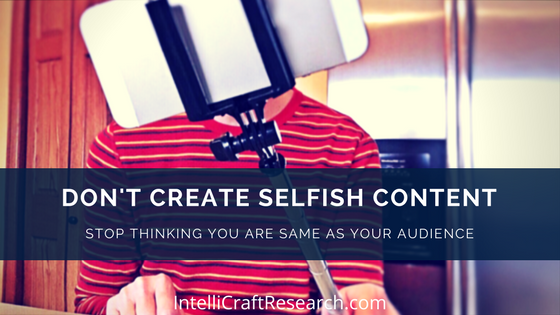 Oh, we say it's for 'them', we tell ourselves we created content that is needed, and we mean it. But the stumbling block that hits so many newer content marketers, and so many of who are learning all this on the job, is that the content isn't truly for our audience. We, as an organization, are still controlling the message and the content. And the audience.
Not so different than 'old' marketing, eh? The reader ends up serving OUR needs or wants as an organization, instead of us really, truly serving THEM.
Why? Because we're still thinking of what our organization needs to communicate. What event to promote, what message to push, what fun parody video we want to create. Those messages still need to get to your community, but if you're pushing it out there to them, don't kid ourselves that it's 'content marketing' – no matter if you used Instagram Stories, Twitter GIFs, a good meme on Facebook, or your library's blog.
Ouch.
How to Bust the Myth and Lie We Tell Ourselves About Content Marketing
Have you honestly answered the FIRST question or commandment of good content marketing: 'Is it useful?'
To really rise above the sea of information out there, all the other 'content' flooding in-boxes, screens and newsfeeds, you must be really, truly useful. Not just what YOU think is useful, but what your audience or target tells you is useful to them.
Good news – libraries excel at being useful. We have TONS of resources and programs that can be absolutely, life-changingly useful. We also create resources and programs that we like, that we think could be useful – but have we really checked or tested those assumptions? That's another post …
Ask yourself, 'Will this piece of content save my audience time, money, or both?'
If not, it's not useful.
Or at least, it's not as likely to be seen as useful enough by your audience for them to give up their email and name at first glance.
So what is 'really, truly useful content'?
Content so awesome, so helpful, such a problem-solver that people would otherwise pay you to get it.
Material that is invited in, welcomed, anticipated, demanded, eagerly awaited.
One of the rising names of marketing experts (who maybe doesn't always think of himself as a marketing expert – after all, he started out selling swimming pools) is Marcus Sheridan. He put it very well recently:
Content Marketing = 'your company or organization's ability to be the best teachers and problem solvers in the world at what you do, digitally speaking'
See yourself as a teacher – (you teach people about ___ )
[e.g. Sheridan teaches people about fiberglass swimming pools]
Here's where the library needs to break things up – we teach a lot of different people about a LOT of things. Focus on just ONE resource, one thing you are teaching ONE small segment of your community about.
See yourself as problem solver -(if someone has any question about _______, you're the source) Are you, or can you become, the go-to source for info on X problem?
[e.g. Sheridan is THE source on pools, pool problems, pool installs, pool designs, really, anything, pools]
Can you and your organization be helpful at every step in a particular, specific process, or making a decision? That's where good content resides.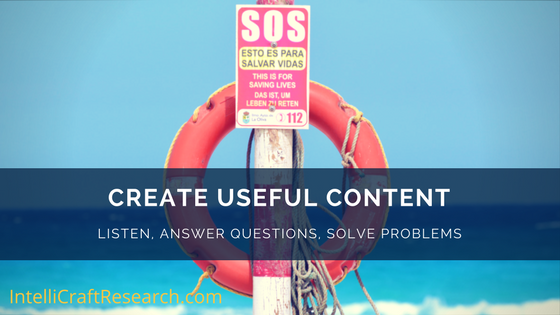 What does that kind of sincerely useful content look like?
Everyone has questions, about nearly everything.
Any process, system, decision or purchase creates questions in people's minds. They don't ask all of them out loud or to someone on your staff. Doesn't mean they aren't important. Often the most important ones are the ones people are afraid to voice for fear of looking 'silly'.
So be the hero and answer their questions.
Use text, visuals, graphs, charts, diagrams, audio, infographics, pictures, screen casts, video – whatever you have, whatever you can create within your means. [Psst — I love to recommend some great, user-friendly, budget-friendly tools to do this] Whatever is necessary to give clarity, greater understanding, and confidence to your audience. Help them solve problems and make decisions, and chances are much, much greater they will decide to choose you.
Address the problems your audience may not even be completely sure they have!
But you know your subject, the one your audience trusts you to be an expert on, and you know where are all the deep issues and problems come from. Your users may still be floundering a bit on the surface, drifting, just going along and experiencing these cramps, pangs or symptoms of their bigger problems.
So share what you know with them.
Show through examples, case studies, or stories your audience can relate to that you GET their problems, at all the levels. Show (more than tell) how you can educate them about these problems they maybe didn't even know about.  Show how you can address and solve problems – big or small.
You're a teacher and a problem solver
And now you've got content marketing that brings your audience in, keeps them there and really matters to them.
You've now beaten the greatest myth or lie of content marketing.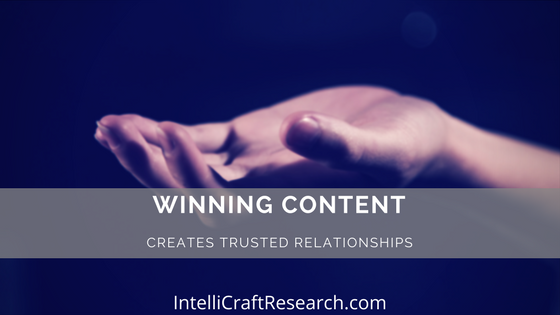 The more you can plan and create content, in whatever format is best for you AND them, that meets the true needs of your audience, the bigger the win for your org AND your clients or users. They learn to see you as a really trusted resource, more than maybe before, and someone who gives more than they take. You're in a better position to work with them either now, or in the future, because you have a trusted relationship.
NOTE: I'm talking content strategy and content marketing at #LMCC17 in the Dallas area, November 16-17. Look for more tips on CM before then, as well as resources from my presentations.