Why Your Library Should Use Animated Videos in Marketing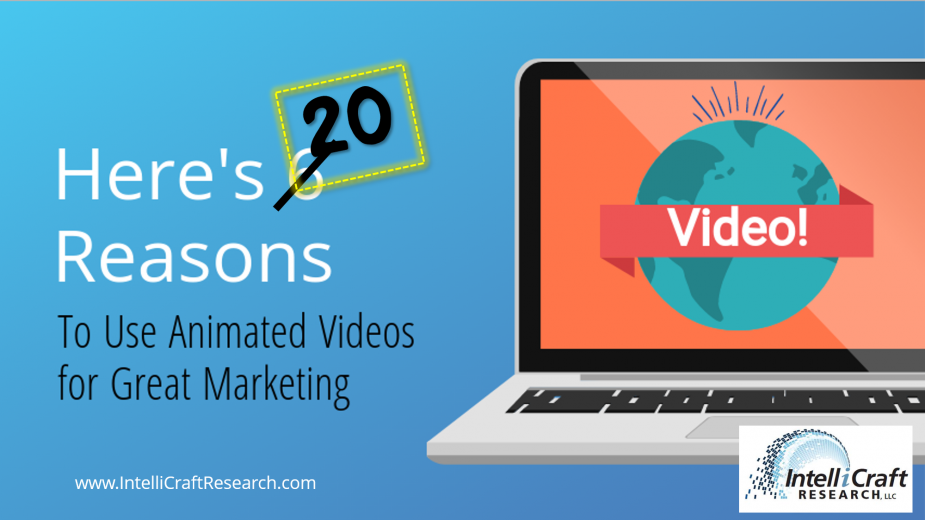 20 Reasons Your Library Should Use Animated Videos in Its Marketing
Why should your library use animated videos?
Same/similar reasons to do ANY kind of videos for marketing – better engagement, better sharing, boosting time spent on your web pages, better conversions, easy to understand, high visual appeal, etc. You've already heard me give reasons video is a tool you should add to your marketing plans and how to overcome video fears. But maybe it still seems out of reach.
Videos – especially those shared on social – work best when short, sweet, simple. It can also help if they're attractive, cute, or funny. And let's face it, video works when it's easy for us, the creators and marketers, to get it done! Well, animation can help you hit all those factors AND become a big time marketing booster.
Still not sure? Let me bust some myths and give you a bunch of reasons why animated videos make sense.
Animations are attention-grabbing – simple lines, bolder colors, plenty of movement
Animations easy to understand – you have to be simple, clear, short – you literally can't cram in too much text, charts, graphics, or anything else. You MUST pare it down or it just doesn't fit on the screen.
Animations easily tell stories – and all marketing, especially video, should be about a story
Animations can appeal to wide audiences – easier to use characters to appeal diverse audiences since you don't need a big budget casting call. Or you can skip the characters and use pictures, objects, or text.
Animations appeal to a range of ages – they're certainly not just for kids!
The visual content of animated videos can help those with language or reading challenges.
Animations can fit any topic –
e.g. easy to share important facts, figures, stats in animation vs. learning to use motion graphics, overlay graphics on a live-action video; and more interesting than just a PowerPoint
e.g. sensitive topics, where you'd need well trained actors or participants, or looks stilted, or audience gets defensive watching real people
Did you see the short video I made with 6 of these reasons to go animated?
Animations are great to show off facts, stats, #s – no one wants to hear an actor read off numbers or try to make stats exciting. But animated graphs of shrinking/growing numbers? That's cool.
Animations help describe processes, especially ones that aren't people-driven – you can anthropomorphize a concept, topic, or process in animation. You can show scale and give cold, wonky things a warmer, fuzzier vibe.
Animations can help build a brand, or a consistent look – easy to copy, replicate for different topics
Animations can look professional and slick for less $ and time than a live video shoot – making them super cost effective
If you don't have, or are not ready to invest in, camera equipment – go animated
If you're not sure about whether your staff, volunteers, community members are comfortable on camera, or can deliver your message – go animated
Animation isn't nearly as pricey as it was, or as you may think – you don't have to hire an illustrator or a team at Pixar. You can get animation from cloud tools with monthly subscriptions lower than a lot of other marketing costs. I put several of these tools in my MEGA marketing tools page, and will show them off on a webinar.
Animations can bring tougher or more abstract concepts to life – cartoons can bend the laws of physics!
e.g. need to show effects of a natural disaster affecting a library? (you're NOT going to shoot an actual flood or tornado! But you can use a cartoon one!)
e.g. want to show something complex, like how Interlibrary Loan works to bring materials to patrons, but don't have the budget to shoot multi-camera, multi-location? Animate it!
e.g. need to show a transformation, or a before & after? Much easier to make a cartoon character go from blonde to redhead, or tall to short, or fat to thin than a real person. Explain the reason for patrons NOT shelving books with animation, showing lost, sad book and then happy, found book (put back by staff).
Animations can pull together and show context, quickly
Animated videos make for less complex, complicated video production – no locations, sets, props, lighting, 'actors', camera setups, bad weather days, bad hair days, etc
Animations can give you complete control over the environment, process of a video production
e.g. need to create a video in September for your holiday events and promotions – don't worry, it can easily snow in an animated video anytime of year
e.g. need to avoid the busy backdrops of less-than-perfect-looking bookshelves, no problem, swap in different backgrounds in the animation
Animated videos are inherently visual – and we humans like visual contact, we process it MUCH faster than text alone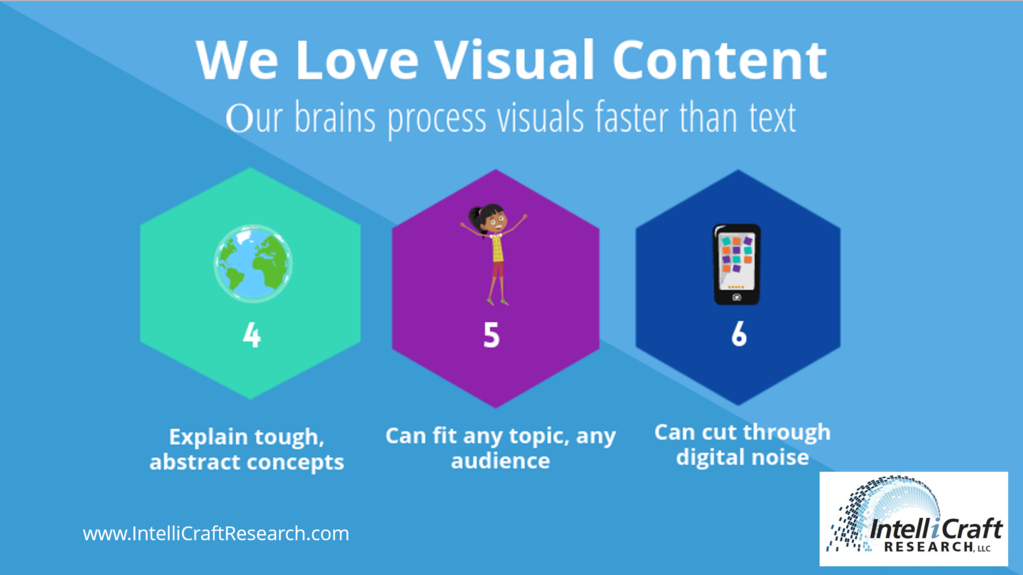 Animated videos are psychologically appealing –  ties in to some our earliest memories growing up as kids often involve cartoons. Animations are colorful, simple, fun, engaging. We remember cartoons fondly and are automatically primed to respond positively to cartoons/animations again as adults.
Animated videos can cut through the digital 'noise' – sooo much info and content out there, and it's getting harder for orgs to be different and be seen/heard in the 'noise'. Videos can still stand out, and since not everyone is doing animation, it stands out more.
Animated videos can scale and grow with your org's marketing activities – you can get fancier with your videos if your budget grows, or as you are comfortable using the tools to tell your library's stories.
e.g. Maybe you start with all moving text, or you learn to create simple 'explainer' videos.
e.g. You might move to series of weekly, animated video tutorials.
e.g. You could create a series of videos to launch a new service, announce arrivals of new books, and of course promote all your big events. It's ok to copy the styles (and literally the files) of your most successful videos to use over again for other promotions.
Animated videos are much easier and quicker to update than live videos – personnel changes, rearranged your library, got rid of a service featured in a video? All are easier to change out in animation vs. re-shooting new footage, editing a new version of a live action video. Animations are more flexible
Animation Marketing Videos Won't Break the Bank
Animated videos are a cost effective way to create engaging and compelling stories to show off your marketing message. They make for relatable pieces of content that entertain while still directing a desired action. The tools are cheap enough to fit nearly any budget (hey, I'm a solopreneur and I can afford a few for my library consulting biz!). They are easy enough for anyone to use – no prior film or video experience required.
Instead of asking 'why use animated videos for marketing', you should be saying 'why not!' and rushing to grab one of the video tools I recommend. Can't wait to see what you create!
Did you know Using Animation for Library Marketing Videos was also one of my Marketing Tool Talk webinars? Yep! Be sure you're on my webinar list to get an invite and reminder of the next talk like this. You don't want to miss another helpful tool!
​​Stay on Top of Hot Tools in Less Than 60 Minutes a Month

​Want to avoid common marketing mistakes and headaches? Learn the top tools - without doing all the research?
You ​CAN with the FREE monthly Marketing Tool Talk webinar.