Marketing + Promotion for AIIP15 Conference in Irvine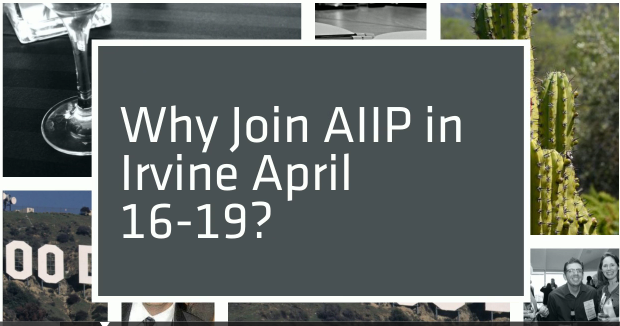 Work as Director of Marketing for AIIP Keep Me Busy!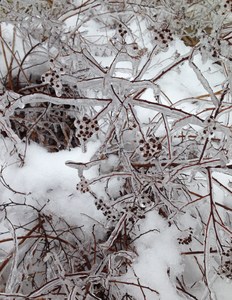 Wow it's a busy winter! It's cold and frozen everywhere. Boston just keeps getting pelted with snow. My friends and colleagues in Chicago are frozen like icicles and even the Texans are getting cold fronts galore. We get a mix of all of the above in PA. So I stay inside and work – which lately has meant a lot of promotional work for the upcoming spring AIIP conference in Irvine, CA.
I'm ghostwriting communications and newsletter columns, editing other pieces. I've written or designed templates and emails for multi-part email marketing campaigns. I worked with our social media team on paid promotions and created graphics for social media. I also produced three short videos to help promote the conference. And this is just what I do as a volunteer Board member!
I can do the same for my library and nonprofit clients! (hint hint)
Video Creation and Marketing Examples
I like experimenting and using new tools. I've gotten into video – it's the present and future of marketing for ALL types of organizations. We're visual creatures. And I've dabbled, or more, in photography since I was a young teen. I'm thrilled to put those skills (and that Radio/TV/Film undergrad minor!) to use for my own business, my clients and my volunteer work.
Get my recommendations on video tools, gear, apps and software for video creation and marketing on a budget- Perfect for libraries, nonprofits and solopreneurs!
The first of the AIIP videos I created this winter was done all on my iPad with iMovie; the other two are used Animoto. Plus I have a number of other video tools and software in my toolkit for animations, editing, whiteboard styles, interviews, PowerPoint videos and more.
Two of the 3 videos I created for promoting AIIP15 will go live in March. The first I created was a fun one about how we info pros are shivering and just want to get to sunny, warm southern California. Launched that in February.
Want to see my video marketing projects?!
"Info Pros Need to Escape Winter"

This travel-themed video for AIIP15 went live on March 5.  The description:  "Join other Info Pros, info-centric small business owners, consultants, competitive intelligence experts, business researchers, market researchers, genealogists, knowledge management gurus, editors, authors + so much more. Just come to the AIIP 2015 Conference in Irvine, CA – April 16-19 to Learn – Plan – Grow."
"Doesn't Matter HOW You Get to AIIP15 in Irvine" – Just get there!
The third promotional video uses lots of great photos from fun conferences past to show all the opportunities for learning, relationship building, networking and having a good time with other business owning info pros.   Description: "If you're an info pro, a consultant, an entrepreneurial spirit – why come to #AIIP15 this April? Because of so many opportunities to learn, plan and grow! Build your skills, build your network and build your business with other info-entrepreneurs."
"Why AIIP15? So Many Opportunities for Info Entrepreneurs"
I'll be filming AIIP's conference, setting up a mini-studio for capturing member testimonials, shooting lots of b-roll and then using a variety of tools or editing programs. The plan is to create videos during the rest of 2015 to feature AIIP's members, events, programming and membership benefits.
I can work some creative video magic for you too!