Why Use Content Calendars? Because They're Strategic Shortcuts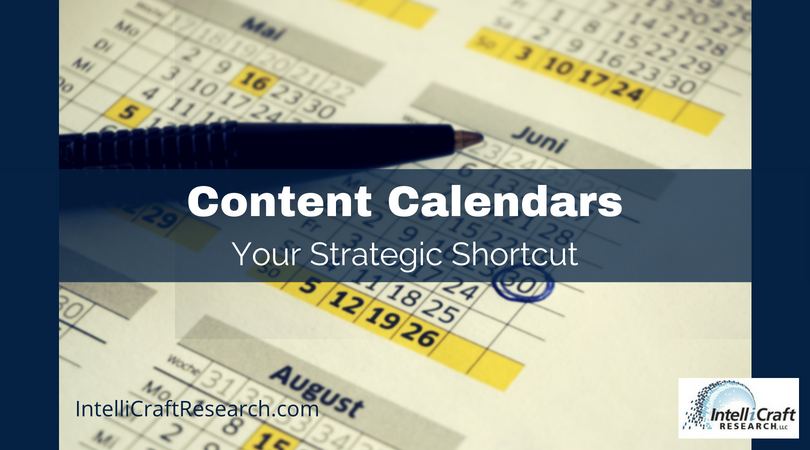 What's a Content Calendar? Your shortcut to more strategic marketing content!
I've taught two webinars recently about content calendars – focusing on what they are, how they can help us set priorities and make marketing work faster and smoother, as well as some of the tools to make these calendars work for you and your team. I'm a big fan of literally laying it all out where you can see how your marketing pieces fit together.
But I know some of you are asking "really, why do we need content calendars? We already have calendars of all our events and programs. Why do I need another calendar?!"
I Bring You….
 'The Content or Editorial Calendar and The Art of Prolific Content Creation'
[kind of sounds like a parable or a sketchy picture book, right?!]
If you've been following me, reading here (or in my emails, my webinars, my library conference presentations) then you know I'm a BIG believer in the power of Content Marketing for telling the stories of libraries (and other nonprofits too). CM is such a natural fit! It's about helping, educating, building on trust, telling stories – you know, all the things you all do pretty well already!  [see the end of this post for links to some of my popular and related posts on Content Marketing for a refresher and a tie-in to content calendars]
So, here are 3 key reasons to use content calendars and some tips on getting one started …
Content Calendars Keep You on Track
To do content marketing successfully, you need to create a great deal of content. This can seem overwhelming. How do you get it all done? No sleep? Lots of coffee? Student interns? Sure, maybe all 3! But generally content marketers get a big time-saving push by creating an editorial/content calendar to follow. [you'll see me and others use "content calendar" and "editorial calendar" interchangeably – there ARE some differences, but for right now, think of them as the same – a guide to what you're putting out there, where, and when]
An editorial calendar helps you stay on target. Following your calendar, you know when your content needs to be published, where it's going, who is responsible for it, when it might need updating, etc. With all that on a calendar you can create and publish marketing content in an organized fashion.
Content Calendars Keep You to Realistic Goals
Remember when we've talked SMART goals?  [you would if you've been part of the webinar training series I've done in 2018 😊 or read this post on goal setting as a refresher – ignore the date, it's timeless! If your org's goals are wishy-washy, vague, or generally not as SMART as you'd like, email me and let's chat ASAP!]  Content Calendars need to be SMART too – especially the parts on Specific, Realistic, and Time-bound.
An important element in creating an editorial calendar is to make sure it's realistic. Don't set a goal of blogging three times a week, or creating a new video every week, or having original content daily for your Facebook page if you can't keep up with it. Also, don't do those things if they don't actively support your goals for RIGHT NOW!  If your schedule is unrealistic, you'll get bogged down and stressed, and the quality of your content will suffer. Quality matters more than quantity.
You can create a realistic schedule by doing a trial run. You also need to talk to your team about what THEY thing is realistic!  Talk to whomever generally writes your emails, who helps you create great looking social graphics, who is monitoring and scheduling your social media. Decide together how much marketing content is realistic for you, to meet your goals, for say the next 30 days. Create a calendar, lay it out, schedule it in – and see what works and what doesn't.  You'll gain an understanding of how much is too much, or whether you can do more. You'll also know if the tool you tried for that 30 days works for you or not.
Content Calendars Can Help Track Results
You can alter your editorial calendar by looking at results. If you find that certain types of content (for example, Facebook posts or videos) are getting more engagement, you can add more of them to your calendar. If no body is responding or commenting on Instagram, rethink your posting schedule there. What other variables or aspects of timing might be having an affect? Note them down. Try a different mix or schedule for the next 30 days, compare, and adjust again.
Ways to Create a Content Creation Schedule
There are at least two ways to go about creating your content. You can spend some time daily producing it, or set aside a block of time each week or even each month so to create upcoming, necessary marketing content.  Look, you know certain events are coming up (the rest of your org's calendar); you know when #StarWarsDay is (d'uh, it's May the 4th 😉) or when #SupermanDay is (or now you do, it's June 12th) so if its appropriate you can create content around those days or events well in advance and schedule it all in (from the creating to editing to publishing). You might know you're doing something for every #TBT (ThrowBackThursday), like posting material from your archives, or of past events.
You know that you need marketing content to support ongoing campaigns, to encourage community action, etc. Plan it, schedule it. But .. you also know there will be things that spring up during the next 30, 60, 90 days of your content planning cycle and your calendar time frame. Leave room for those marketing messages.
Generally, the larger your organization, the more departments involved, the more ongoing campaigns you've got – the less likely the 'create/plan daily' routine will work. In fact, it's likely to just add to your stress – and that's NOT the point of a content calendar.
BUT … daily content time is good for checking on progress, monitoring social media for questions or comments, checking your results or other metrics and making a note of what to adjust at the end of the week. Pick a method, just like you'll pick a content calendar format or tool, try it, talk it out with your team – and adjust!
In content creation, as in all things, nothing gets done without a clear plan and a workable schedule. Your content calendar is an important part of your marketing plan and activities.
Some sample content calendars and templates to check out:
Content Marketing Institute – see also Joe Pulizzi's book, Content Inc
Nonprofit Quarterly
Network for Good – nonprofits
Nonprofit Marketing Guide – Kivi Leroux Miller
Curata – sample content calendar templates
Planning Tools –   see my lists of recommended marketing tools for more info on these other tools
Excel, Google Sheets
Google calendar
Trello [free!]
Asana [free for teams up to 15!]
Zoho – see both Zoho Projects and Zoho Social [I swear Zoho has a tool for every aspect of business and marketing!]
Related past posts –
Goals of Content Marketing – Knowing your goals, what you're trying to achieve in marketing helps you set priorities – and your priorities are what gets scheduled on your marketing calendar, the priority content goes on your team's content calendar
Core 4 – Setting up for Content Marketing Success – 4 essential pieces or processes – and honestly, setting up your content calendar properly and having it match your goals should probably have been #5.
Busting Myths and Telling Truths About Content Marketing –  yes, you and your library really can do CM and make it work. You're probably partly there already.
Get Unstuck with Sticky Notes – yes, you absolutely can do your marketing planning, your content scheduling the 'old school' way by busting out a bunch of colorful Post-Its. I show you how I did so in this post and video series.
And I talked about Content Strategy, improving processes and workflow and setting aside the time necessary for planning during my LMCC17 presentation – you can get a recap of that session and my slides here