More Than 10 Instagram Marketing Experts That Libraries Can Learn From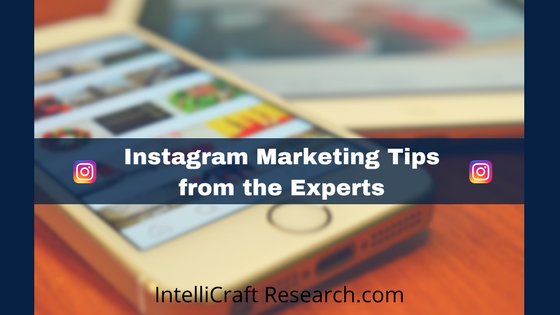 How Would You Like to Learn Instagram Marketing from the Experts?
First – a few Insta-facts for 2018. (In case you need to convince your boss that your library needs an Instagram account)
I'm not an expert on Instagram.
No where close. 😀
I opened my Instagram account years ago for the same reason as everyone else, to share pictures of food. Basically.
And while I eventually turned my personal account from locked-down-private, to ok-world-look-at-my-iffy-phone-pics – I pretty much still just post photos of food, wine, crappy weather, sports events, and only occasionally books I'm reading (ironic, since my personal account has 'bookworm' in the handle). I don't (currently) use Instagram for my business here at IntelliCraft. I'm not sure I'd want to do business on what I consider my personal, friends-and-family account.
Full disclosure: I also don't know HOW-TO strategically use Instagram for marketing.I know a few tips, I know where to study up, but I only have so many hours in the day, only so much more marketing knowledge I can try to cram in my brain. AND … I follow my own advice on being strategic in my marketing. Instagram hasn't been part of my own marketing strategy.
BUT…  I have a few friends who are experts and DO know Instagram for marketing. And I'm an info pro – which means I can research all the other experts and then share what they have to teach us about Instagram Marketing.
Pssst …my pal who is one of those experts – he's coming on my MarketingToolTalk.com web chat soon to school me on Instragram for marketing and help all of you too.
Still time to register for the upcoming Marketing Tool Talk with the fastest ever Instagram Marketing 101!
Click here to save your seat now!
For now … I'm doing some pre-webinar homework, learning about new changes in Instagram and what that means for those who use it in their marketing communications. Learn about Instagram Marketing with me, ok?
Is Instagram That Big a Deal for Marketing? What Are Others Doing?
A LOT has been changing with Facebook – and we know brands of every size, shape, and budget are scrambling. Library and nonprofit pals – you're not alone – Facebook may not be the way to most effectively (and cheaply) reach your audience. Instagram <may> be more cost effective.
Hootsuite reports on how a lot of big brands are shifting to Instagram (they were already there, but are strengthening and concentrating efforts) for even more visual content and communications. And they are seeing some BIG numbers in engagement. Instagram skews younger (majority under 30) and really brand conscious (54% of users follow brands on Instagram) – so if that matches your demographics, start planning ways to amp up your Instagram efforts.
"While definitions vary, engagement embraces the degree to which users actually interact with content—liking, sharing and commenting, rather than just passively looking."
[and brands get 3x more engagement on Instagram vs. Facebook]
What Do the Social Media, Instagram Experts Say We Should Be Doing?
  Thanks to my very plugged in, Instagram-expert pal, Ken Watson – I've known for a while that Jenn Herman is a serious go-to guru in social media, especially Instagram. [Look for her at Jenn's Trends, and also read her other Instagram marketing articles at SME ]  So it's great she's featured on Social Media Examiner (another site I love) explaining how to use Instagram Type Mode in Instagram Stories. Until reading this story I had no idea you could create a text-only story in Instagram!
 I'm an info pro, a trained librarian, so you know I love research. Not always the DOING it, but I love articles and tips that really are based on research and data. So I'm a fan of this post from Buffer with at least 8 actionable tips for Instagram marketing based on more than 20 studies of Instagram marketing efforts from a lot of smart sources and brands. Plus they analyzed a lot of top, popular Instagram accounts and posts to see what's really working. Great! Our research is already done. [And for all of us wondering how we're supposed to keep up with all this social media – check out Tip #2 – reinforcing my belief that consistency matters more than quantity]
 I'm one of the fans/users/followers on Instagram who hated when they changed their algorithm away from chronological order to … whatever the order seems to be. I get it, it's frustrating – and shoot, I'm only really looking for the latest pics of my nieces, nephews, friends' kids, and some gorgeous tropical spot to dream about for a vacation. So I think we can appreciate these practical tips for how you can avoid getting lost in people's Instagram feeds.
 Another research-driven social media and marketing guru I've followed for years and frequently read is Neill Patel. So if he says he's derived "10 powerful Instagram marketing tips (that actually work)", then I'm definitely going to check those out.
Oh. Looks like I better get on Tip #1 – Switch to a Business Profile. Or maybe I'll just start a new, business-focused Instagram account for my library marketing consulting, teaching and training and I'll START with a business profile. Why? Well, Neil explains all the benefits you get, like analytics and easier ways for your followers to actually contact you (ya know, the point of marketing?!).  And even the big name gurus like Neil know that free tools can be key (and awesome) in social media – check out Tip #2.
 Nice summary of key, fundamental processes to keep in mind for your Instagram marketing efforts in an infographic from Social Media Today. Here's a snippet on content and hashtag tips. I definitely agree that 'behind the scenes' photos and stories make great content in general, and perfect for your library or nonprofit org's Instagram efforts. 

 Marketing software leader and great sharer of educational marketing content, HubSpot,  naturally offers its own, comprehensive Ultimate Guide to Instagram Marketing. Seriously, you could spend several days reading and studying up on what's offered here – from just getting started with Instagram marketing, to growing your following, to how to measure success.  [I wonder how much of this aligns with what my pal Ken teaches? Will be interesting to find out!]
Hashtags – love 'em or hate 'em, they're crucial to Instagram Marketing (unlike for Facebook, and lesser extent on Twitter)
#hashtags are crucial to Instagram success – even I know that! But … you don't want to end up using the wrong hashtags, or tags that don't mean quite what you think they might, or tags that just aren't popular. So, do your homework and research hashtags first, and then keep a list of common tags for topics you and your library frequently post on. [Tip: I have a photographer pal who keeps a list of common photography hashtags and tags for our local area in a Notes file on his phone, easy to copy&paste into Instagram.]
Yes, nonprofits (like my library pals and clients) can find success in Instagram marketing
Not everything that the big brands do on social media is something that nonprofits, like libraries, can or should try to do too. But Instagram IS working for nonprofits, causes, and smaller orgs. We just have to adapt some of the advice. I always want to look for what the nonprofit marketing experts are advising – such as:
 Bloomerang's guide to nonprofit Instagram use – and ooh, check out the nifty infographic of their 2017 Nonprofit Social Media Benchmark research. I agree with their tips on setting goals (you need marketing goals overall, not just social media – but for sure for each platform IF you're using social media). And I definitely recommend you look at what similar organizations are doing, on any social platform.
 TechSoup says the same thing – check out what they think are the top 10 Nonprofit Instagram accounts to learn from. [Gotta admit, their #1, NatGeo, is a big reason I HAVE an Instagram account and what I look at when I want to chill]  Then … go follow a lot of library Instagram accounts and see what they do, what gets engagement and if that's something that might work for you.
 npENGAGE is a good source for nonprofit marketing tips – so I like this case study they shared on how the Lupus Foundation of America has used Instagram and really changed and improved their use of the social media tool.
 I also liked this guest post on nonprofit, association software leader Wild Apricot, with "3 best Instagram strategies for nonprofits" – because they start with doing your research on hashtags (and getting more oomph from them), moves on to the types of content that get a lot of 'Gram love and how your org could capitalize (quote pics, behind the scenes, volunteers at work, prep for an event, and humor) and also give points on nurturing engagement.
 I'm such a huge fan of John Haydon and his work on nonprofit marketing that I invited him to be a keynote speaker for LMCC back in 2016 (and I got to chat with him at dinner and got an autographed book). I think his HumpDay Coffee Chats (now on Facebook Live) are awesome and a model I hope to follow. Here are his thoughts on "5 creative ways to engage supporters with Instagram Stories" and some excellent examples of small orgs making use of the Instagram stories feature.
 Nonprofit marketing site the balance offers its "10 secrets to being awesome on Instagram for Nonprofits" and I agree with them that you need to start with a clear strategy. Just posting pictures of your library, your books, your bulletin boards, isn't enough. What's your plan? What's your style? How compelling are your captions? (Tip #3)  And for that matter – don't try to 'game' Instagram or get fancy with captions vs. comments – you're posting for real people who want real experiences with you – give them a story in the caption of the photo! You've got 2,000 characters so use a few to tell a story.
Social media is constantly changing …
Case in point … the data scraping controversy at Facebook and resulting changes all were hitting the news as I was researching and writing this post. And then Instagram rolled out BIG changes to its API (way that tools – like Hootsuite, Buffer, SproutSocial – can all talk to each other and to Instagram).  Upheaval!
This is an article from marketing expert software company HubSpot, on the announcement that recently Instagram changed its API – again – and there's limited access to developers.  What does that mean?  Even experts like HubSpot are NOT 100% sure – but the good folks at HubSpot are digging into to the changes and working to explain to their audience of marketers.
ALSO Instagram has been notorious for YEARS about keeping things tightly to themselves and not 'playing' nicely with other software or apps. AND, since Instagram is owned by Facebook and this change comes in the wake of the big data scraping debacle being unearthed – it  could be related to policy changes coming from Facebook.  These changes ARE affecting the social media management tools that a lot of the library marketing folks I know use. We don't know what it means for the long run. Remember, it's only very recent (late 2017) that Instagram even really started allowing scheduling through 3rd-party tools.
This all serves as a head's up and reminder that the way these platforms and apps work with each other – or don't – is always changing. Social media changes. And we – the users, the ones marketing via social media – are not in control. We are the product.  Don't get reliant on any one tool.