Articles Published by Jennifer of IntelliCraft Resesarch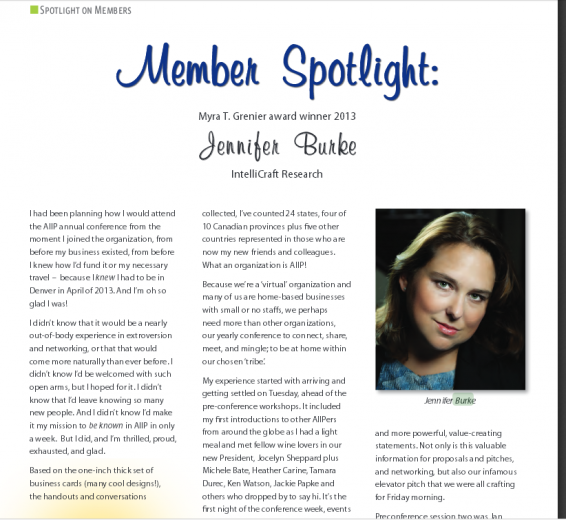 IntelliCraft Research and Jennifer Burke published articles for information professionals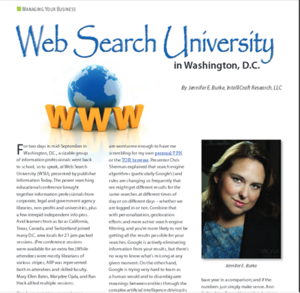 IntelliCraft Research's principal, Jennifer Burke, had an article published in the December issue of AIIP Connections, the member publication of the Association of Independent Information Professionals. This issue is currently available to read online for free. Jennifer hopes to have several other articles published by AIIP in 2013.
I wrote a review of my Fall 2012 attendance at Web Search University [from Information Today and shared some of the great tips and resources she learned there. AIIP Connections editors run a quick member survey and my response was selected for the section of the magazine, where members are asked thought-provoking questions. Read the December edition to see what made Jennifer's bucket list!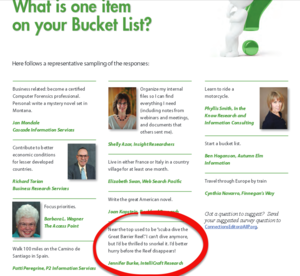 Look for future articles and reviews from Jennifer in AIIP Connections and other publications.
UPDATES: More Articles Published in 2013

I wrote a timely book review of a social media primer for the March 2013 issue of AIIP Connections [see pg 27], on the book Face2Face: Using Facebook, Twitter and Other Social Media Tools to Create Greater Customer Connections, by David Lee King.
I received a special spot in the June 2013 issue of AIIP Connections for the Member Spotlight, as I wrote an article describing my experiences at my first AIIP conference for independent information professionals. I was in the Spotlight as the winner of the 2013 Myra T. Grenier award. I gave a detailed account of the warm welcome and business building info provided by this conference, which has quickly become a favorite event of mine.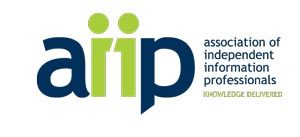 For the December 2013 edition of AIIP Connections, I reviewed the latest edition on indexing and abstracting for Information Today, by author Linda Fetters. I don't think I'm the core audience of info pro that Handbook of Indexing Techniques: A Guide for Beginning Indexers, 5th ed., is directed towards; but I tried to do justice for the book and explain how maybe other independent info pros might need this introductory guide.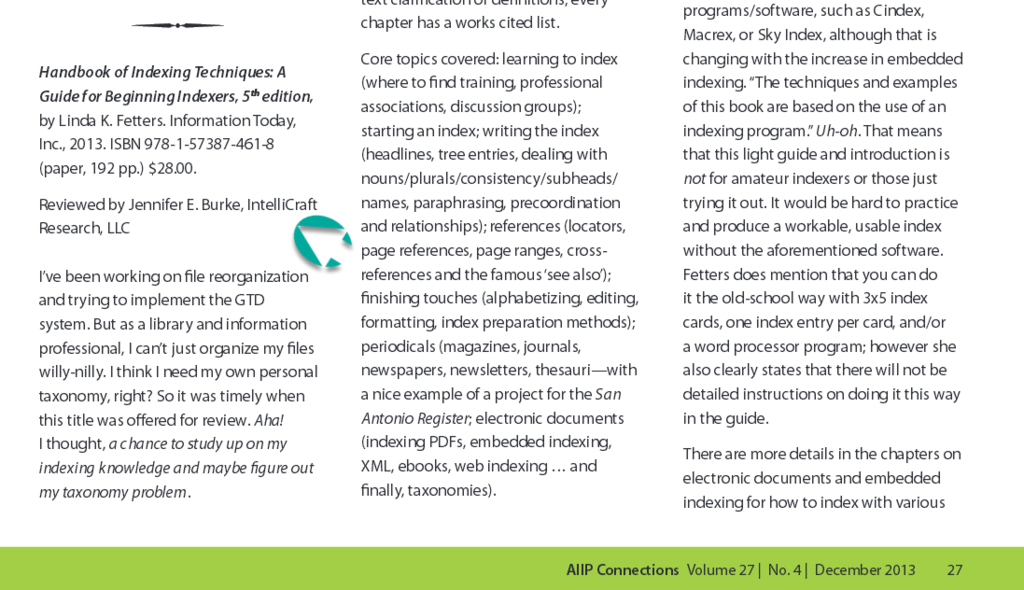 Oh, I nearly forgot I wrote another book review for the Dec. 2013 issue of AIIP Connections. It wasn't exactly my favorite book, but then I don't think I was the best audience for this really basic primer on networking to build a business. Or maybe I just didn't care for the author's style. I gave some alternate recommendations from my bookshelf and recent reading.
21 Days to Success through Networking: The Life and Times of Gnik Rowten, by Ron Sukenick and Ken Williams from Information Today.