Strategy First! Marketing Presentation at ALCOP 2013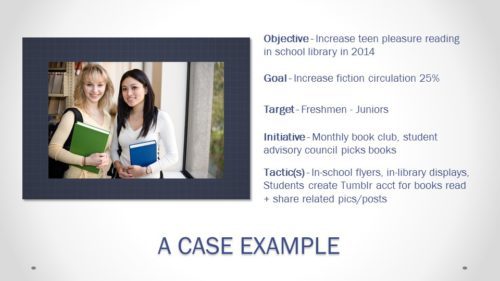 Library Communications and Marketing –  Think Strategy First!
I spent 2 days in Fort Washington, PA (nearby Philadelphia suburb) talking, networking with fellow library and info pros about communications and marketing – culminating in presenting – at the 2013 ALCOP Conference [Association of Library Communications + Outreach Professionals].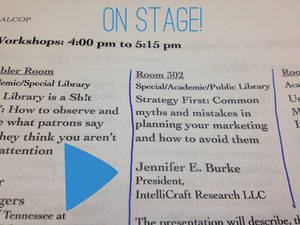 My workshop on "Strategy First! Common Myths and Mistakes in Planning Your Marketing, and How to Avoid Them" was accepted by the organizers of the ALCOP conference and I was thrilled to meet, greet and speak locally to a favorite and receptive audience.
I talked about how the biggest sin and mistake in marketing is usually failing to plan, not having a real strategy to begin with. It's a far too common mistake, but understandable as the 'shiny objects' of marketing tactics (oooooh, look, Twitter, Pinterest, Email marketing, Vimeo!) are often hard to resist.
It was a great experience to hear and see what public, academic and regional library systems are doing in their communications and outreach efforts. There is still some stigma around the 'm-word', but marketing principles and strategies are being embraced more, even if that's not what the job title or description says (fascinating presentation on the last day to that effect – and needing to craft your own title and description to accurately reflect your role and duties).
Here's the whole conference program for the 2013 ALCOP Conference.
Another highlight was to meet a fellow marketing consultant and lover of libraries – someone I look up to and try to emulate in spreading the word about the importance of sound marketing strategy and techniques in libraries – Kathy Dempsey (author of The Accidental Library Marketer – highly recommend it!) We speak the same language on marketing.   I even received a lovely mention and write-up from Kathy Dempsey (of Libraries Are Essential) on her The M Word blog.
If you'd like to see the slides from the workshop and presentation and check out Strategy First Marketing, it's on SlideShare.